Samsung Electronics has developed the world's first memory semiconductor integrated with an AI (Artificial Intelligence) professor. This memory is able to read or store data just like memories and is also able to perform data operation like CPUs. It will be interesting to see whether the semiconductor is able to bring a paradigm shift to the global memory semiconductor market.
Samsung Electronics announced on Wednesday that it has developed a new memory called HBM-PIM (High Bandwidth Memory Processing-in Memory) that combines a memory semiconductor and an AI processor into one.
PIM indicates a next-generation convergence technology that adds processing capabilities that are needed to perform data operation.
Utilizing the technology, Samsung Electronics has developed the HBM-PIM that can be used for super-fast data analysis such as HPC (High-Performance Computer) and AI.
Technically, the company has completed the development by integrating an AI engine into its second-generation HBM called "HBM2 Aquabolt".
What is special about the HBM-PIM is that the memory is responsible for a part of data operations unlike how the current DRAMs are used to send data to CPUs.
Although there have been growing demands for high-performance memories as AI applications have begun to be used in various fields and AI technology has started to become more advanced, memories that are currently used have limited capabilities due to their "Von Neumann architecture".
The structure is utilized widely for most of computer that are currently used and it is used to have CPUs import commands from memories and perform those commands and store those commands back into memories.
Once amount of data received back and forth between a CPU and a memory increases during this process, operation process can be delayed.
In order to prevent this delay, Samsung Electronics has installed an AI engine to each computer memory bank to maximize parallel computing and performance.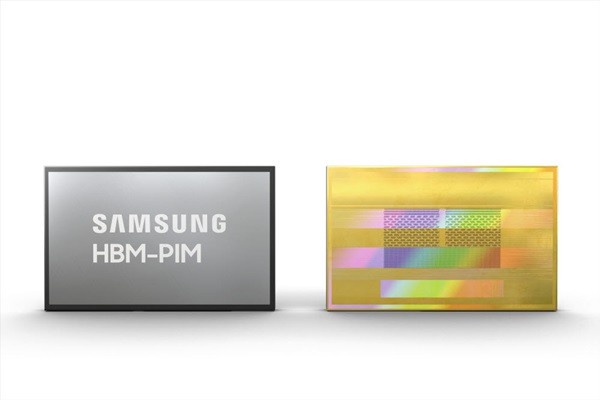 Also, the company has also incorporated data processing capability into the HBM-PIM in order to improve energy efficiency of the system with regard to reduction in data movement between a CPU and a memory.
According to the company, performance doubles and system energy is reduced by more than 70% when the HBM-PIM is incorporated into an AI system compared to a system based on the HBM2.
Because the HBM-PIM still supports interfaces of the existing HBMs, customers that use such HBMs do not have to change any hardware or software if they wish to set up an AI system incorporated with the HBM-PIM.
Samsung Electronics has successfully commercialized the HBM-PIM during a DRAM manufacturing process and it recently introduced a relevant research paper at the 2021 ISSCC (International Solid-State Circuits Conference) that holds the highest authority in the world when it comes to the semiconductor field.
Samsung Electronics believes that its HBM-PIM technology will receive a spotlight in the AI market such as HPC and machine learning system. It plans to use the memory for AI systems of various customers in this first half and complete verifying different tests on the memory.
Park Kwang-il, who is a senior vice president at Samsung Electronics, said that the HBM-PIM is the industry's first PIM solution that is customized for AI and can maximize performance of AI accelerators and that the company plans to establish a PIM ecosystem by strengthening cooperation with customers.
Staff Reporter Kang, Hyeryung | kang@etnews.com