Samsung Electronics has started making huge semiconductor investments worth $31.7 billion (35 trillion KRW). The company recently started making investments in its NAND flash plant in China and DRAM plant in South Korea. Besides NAND flash and DRAM, it is reported that the company is planning on a huge investment in its foundry business as well. As the company is planning on huge investments this year, companies that make materials, parts, and equipment related to semiconductors are expected to see a huge boost in their sales.
According to the industry on Tuesday, Samsung Electronics plans to invest $21.7 billion (24 trillion KRW) and $9.97 billion (11 trillion KRW) in memory business and foundry business respectively this year. The total amount of investment is an 20% increase compared to how much the company invested in semiconductor plants and equipment last year. This year's investments particularly are expected to be focused on the company's second plant in Xian and second plant in Pyeongtaek.
The company has recently begun making orders for necessary semiconductor equipment. On January 21, it placed an order worth $105 million (116 billion KRW) from WONIK IPS. On January 18, it placed an order worth $25 million (27.6 billion KRW) from TES. Semiconductor equipment from these companies will be delivered in June and July and they will be installed at Samsung Electronics' second plant in Xian for the purpose of 6th generation 128-layer V-NAND production.
Samsung Electronics has also begun making investments in plants and equipment related to DRAM. On January 15, it signed a contract with DI to purchase $31.3 million (34.5 billion KRW) worth of semiconductor inspection equipment for DDR5, which is a standard for next-generation DRAM memories. It is likely that Samsung Electronics put in an order in order to start producing DDR5 DRAM memories in the second half this year.
These orders are seen as a sign that Samsung Electronics has begun making full-scale semiconductor investments for this year as NAND and DRAM are the company's main products and the company stated that it would focus this year's investments in the first half after looking at this year's semiconductor market situation positively.
Because the second plant in Xian and the second plant in Pyeongtaek have yet to be filled with necessary equipment, Samsung Electronics' investments this year are expected to be focused on these two plants.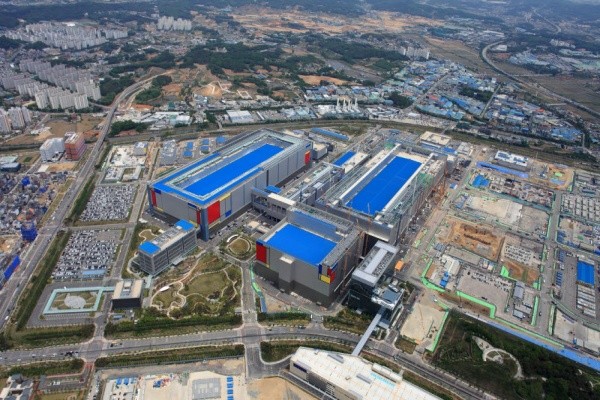 According to the industry, Samsung Electronics plans to completely fill the second plant in Xian, which currently has equipment equivalent to 50% of the plant's entire production capacity, with necessary equipment by the end of this year. It also plans to invest evenly in DRAM, NAND flash, and foundry when it comes to its second plant in Pyeongtaek.
The scale of investments for the second plant in Xian (X2) is expected to be around 55,000 sheets based on wafer input amount. Regarding the second plant in Pyeongtaek (P2), the scales of investments for DRAM, NAND flash, and foundry are expected to be between 30,000 and 60,000 sheets, between 18,000 and 30,000 sheets, and 20,000 sheets respectively.
The size of Samsung Electronics' investment can change depending on changes within the global semiconductor market. However, the industry is certain that Samsung Electronics' investment in plants and equipment will be higher this year than last year due to activation of contact-free economy around the world and increased demands for semiconductors from the smartphone and the automotive industries. Such certain is the reason why the total size of Samsung Electronics' investment in 2021 is estimated to be 20% higher than 2020.
In fact, companies that supply semiconductor materials, parts, and equipment to Samsung Electronics have been busy recently with these active investments carried out by Samsung Electronics. Global semiconductor equipment suppliers are expecting to make their highest sales from South Korea ever as they expect huge performance from Samsung Electronics this year. South Korean companies that supply materials, parts, and equipment are also encouraged with Samsung Electronics' planned investments. It is reported that Vice Chairman Kim Ki-nam of Samsung Electronics told the company's executives and employees to look for ways to maintain the super gap strategy in order to prepare for a cycle of huge booms within the global semiconductor market.
One official from South Korea's semiconductor equipment industry said that the industry is expecting a huge growth this year as Samsung Electronics is planning a huge investment in plants and equipment.
Meanwhile, it has been reported that Samsung Electronics does not have a plan to extend its foundry plant in Austin that had been drawing lots of attention. Although there is a chance that the company will break grounds in this second half at the earliest, it is likely that the company will only work on groundwork for the plant. Normally, a semiconductor manufacturer chooses a place for a plant, builds a plant, and installs cleanrooms and brings in equipment at the end. Because it takes two to three years from construction to installation of equipment, it is likely that the company will start making investments to extend the Austin plant in 2022.
Staff Reporter Yun, Geonil | benyun@etnews.com & Staff Reporter Kang, Hyeryung | kang@etnews.com