SK Nexilis, a subsidiary of SKC, has decided to build its first overseas plant in Malaysia that will be able to produce 44,000 tons of copper foil for electric vehicle (EV) battery annually starting from 2023.
SKC announced on Tuesday that its subsidiary SK Nexilis has decided to build a copper foil production plant at Kota Kinabalu Industrial Park (KKIP) at Sabah state.
The goal is for SK Nexilis to break grounds this first half and operate the plant in 2023. Copper foil is a key material for EV batteries and is utilized as an anode material. Thinner copper foil allows more active cathode materials to be filled in a battery and thus increases the battery's capacity.
SK Nexilis plans to move transfer technologies from its plants in Jeongeup to Malaysia and manufacture high-quality copper foil. It will also build automated facilities by introducing unmanned vehicles and robots that are currently used for its plant in Jeongeup and using its knowhow in various technologies. It will invest about $590 million (650 billion KRW) in building the plant, and its production capacity of copper foil is expected to triple to 100,000 tons once the plant is in operation.
The company has chosen Malaysia as its first foreign production base because the country allows for stable supply of electricity. Because copper foil is made by electrodepositing copper onto titanium drum, it requires a huge amount of electricity during production. Electricity supply in Malaysia is most stable out of Southeast Asian countries and is one of the cheapest.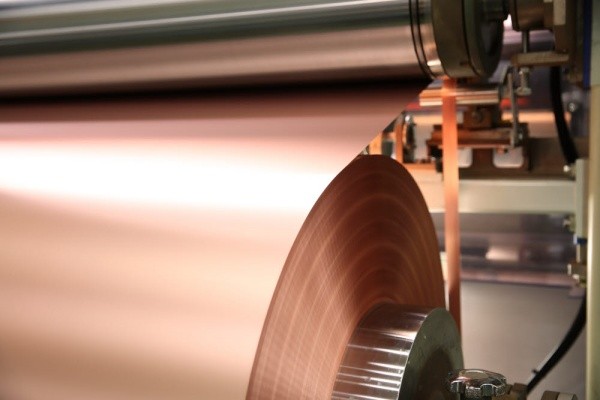 Also, the city of Kota Kinabalu has excellent infrastructures such as ports, a huge international airport, gas supply, and water facilities. SK Nexilis has secured a 400,000 m2 land, which is three times that of its Jeongeup plant, that will make it easier for the company to expand the plant later on. The plant will become the first in the industry to only use new and renewable energy and be fully committed to the "RE100" initiative.
SK Nexilis is also looking into making investments in Europe and the United States. Because demands for copper foil are rising rapidly due to a rapid growth of the global EV market, the operation rate of SK Nexilis's plants is currently at 100%.
An official from the company said that the company plans to quickly increase its copper foil production capacity by more than five times by 2025 through additional investments.
"We are looking to build a plant that is able to make the world's thinnest copper foil the longest and the widest and meet various requests from customers and represent our advanced technologies." said President Kim Young-tae of SK Nexilis.
Meanwhile, there was a rumor that Iljin Materials, which is a competitor of SK Nexilis, is also looking into building a plant in Malaysia. However, any kind of controversy is expected to be fade out as SK Nexilis's new plant will be built 100 kilometers away from the area where Iljin Materials' plant is expected to be built.
Staff Reporter Kang, Hyeryung | kang@etnews.com