Samsung Electronics has decided to apply a technology to its new smart watch "Galaxy Watch 4 (tentative)", which is set to be introduced this second half, so that the watch is able to monitor one's blood glucose level. The technology utilizes an optical sensor and detects blood glucose level without having to draw blood and it is expected to make a great contribution in assisting those with diabetes and normal people with managing their health.
After including blood pressure and ECG (electrocardiogram) measurement features to its latest Galaxy Watches after being certified by the Ministry of Food and Drug Safety last year, it is now getting to ready to include a blood glucose level measurement feature and cause the global healthcare market based on wearable devices to be in full swing.
Samsung Electronics is working tirelessly to introduce three new wearable devices that can be worn on wrist during Galaxy UNPACKED 2021 that will be held this second half. It is reported that the name of the smart watch with an ability to measure blood glucose level will be either "Galaxy Watch 4" or "Galaxy Watch Active 3".
This technology will free diabetic patients from having to prick the tip of their fingers which can take place up to ten times a day. Based on data accumulated within Samsung Electronics' new Galaxy Watch, they are able to adjust their daily habits or meals more systematically.
In the past, Samsung Electronics published its research on noninvasive blood glucose level measurement technology based on Raman spectroscopy, which was done along with a research team from MIT, on an international scientific journal called "Science Advances".
Raman spectroscopy is a spectroscopic technique that uses wavelength that is caused by vibrations of molecules of a material when laser light is scattered after it hits the particular material. Samsung Electronics and the research team from MIT have been able to raise the accuracy of noninvasive signal measurement to the highest level using Raman spectroscopy.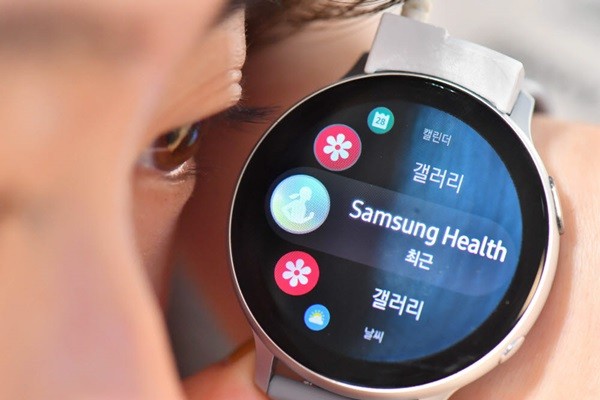 It is also reported that Apple is planning to apply the same feature to the "Apple Watch 7" that is expected to be introduced this year. The company has already secured relevant patented technologies and is currently testing the feature's reliability and stability before the commercialization.
A small and medium-sized South Korean enterprise called Philosys Healthcare has also developed a blood glucose level measurement technology that does not require blood to be drawn and is currently working on technical cooperation and commercialization.
A Japanese startup called Quantum Operation had drawn the attention during CES 2021 by introducing a smart watch prototype that is able to measure blood glucose level in just 20 seconds through a small optical spectrometer.
The key however is for these companies to receive approvals from their respective governments. As their technologies and products can be utilized as medical devices for diabetic patients, they need to be authorized by food and drug administrations.
Just like the ECG measurement feature, the procedure is to mount relevant parts first and vitalize the corresponding feature afterwards according to screening processes from local and national regulation authorities. Apple introduced the ECG feature through its Apple Watch for the first time in September of 2018. However, the official service update in South Korea took place after it received an approval from the Ministry of Food an Drug Safety last year.
"Efforts to apply the blood glucose level measurement technology to mobile and wearable devices including smart watches have been taking place for many years." said one expert in wearable devices on January 24. "The technology will be a catalyst to appearance of various healthcare services and the spread of the global healthcare market."
Staff Reporter Park, Jungeun | jepark@etnews.com