MediaTek, a Taiwanese system semiconductor manufacturer, is making an eye-opening growth. It is making its presence known in the global smartphone application processor (AP) market by having the transition towards 5G as a stepping stone. It has grown to a point where it is even able to threaten Qualcomm that is the leader in the global smartphone chip market.
According to the industry on Monday, MediaTek has decided to give about $60.6 million (67 billion KRW) in incentives to its executives and employees and its key partners. Its decision comes from achieving the company's best annual performance in 2020.
In 2020, MediaTek brought in about $11.5 billion (12.7 trillion KRW) in revenue that is a 30.84% increase compared to 2019. The company stated that the performance was just a start and that the company would continue to grow based on its performance.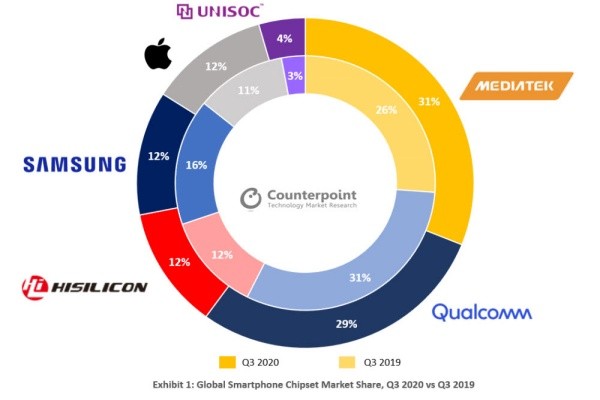 MediaTek's APs, which is seen as the brain of a smartphone, had been the major factor for the company's growth. According to a market research company called Counterpoint Research, MediaTek was responsible for about 31% of the share in the global smartphone AP market in the third quarter last year which placed the company above Qualcomm and at the very top of the market. Counterpoint Research analyzed that Mediatek became the biggest smartphone chip supplier based on its performance in the global markets for low and medium-end smartphones and in the Chinese and Indian markets.
MediaTek's APs are seen as having great competitive price compared to performance. The company's APs are used mostly for Chinese smartphones, and the company is currently benefiting from increased shipments by Xiaomi, OPPO, and VIVO while Huawei is suffering from sanctions imposed by the United States government. Counterpoint Research analyzed that MediaTek's share within Xiaomi jumped more than three times in the third quarter last year compared to the third quarter of 2019.
MediaTek is also making strides in the global 5G smartphone market. LG Electronics, Realme, Xiaomi, VIVO, and OPPO have released their 5G smartphones with MediaTek's chips built in. MediaTek has also developed an integrated chip that combines a modem and an AP into single chip. MediaTek plans to announce its new high-performance AP on Wednesday. It will be interesting to see whether the company plans to expand its business towards the high-end smartphone market that is dominated by Qualcomm.
Staff Reporter Yun, Geonil | benyun@etnews.com