Chargers can be easily found in an office or a house. However, it is not easy to find a charger that functions normally. Charges tend to break easily and can take forever to charge electronic devices. Even an extension cord with 4 outlets is not enough sometimes to charge numerous smart devices at the same time.
It is time to change old USB chargers with new USB chargers. Chargers nowadays have multiple ports and provide fast charging. Because they are able to charge various electronics devices such as laptop and tablet, cellphone, and portable game console at the same time, they can be useful while having a meeting in an office or studying with friends at a café. Because one can charge a smartphone and a laptop at the same time if the laptop supports USB-PD, he or she will not have to carry around a heavy laptop charger.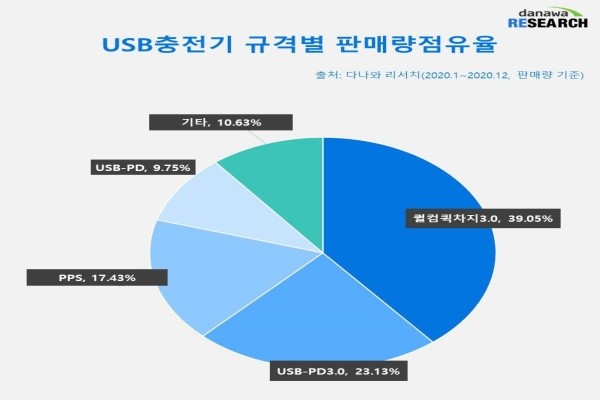 ◊Qualcomm Quick Charge 3.0 the most commonly used charging standard
Qualcomm Quick Charge (QC) 3.0 is the most commonly used standard for USB chargers. According to Danawa Research provided by a price comparison site called Danawa, 39% of USB chargers old in 2020 supported Qualcomm QC 3.0 while 23% supported USB-PD 3.0. After Qualcomm QC 3.0 and USB-PD 3.0, it was PPS with 17%, USB-PD with 10%, and Adaptive Fast Charging (AFC) with 7%.
Qualcomm QC 3.0 technology is a fast charging technology that has been applied to mobile devices since 2016 and it is up to 27% faster than Qualcomm QC 2.0 and has 45% less power loss. It is two times faster than QC 1.0. While it takes one and a half hours to charge the battery of a mobile device without Qualcomm QC 3.0 to 80%, it only takes 35 minutes to charge the same device with Qualcomm QC 3.0.
If QC 3.0 provides 18 watts of power, USB-PD 3.0 supplies up to 100W (20V/5A) of power. Because there has been an increase in number of laptops that support USB-PD, there has also been an increase in demands for USB-PD 3.0 chargers. Some recent mobile and IT devices support both Qualcomm QC 3.0 and USB-PD 3.0
Chargers can be divided into various types such as those with separate cables and those with cables attached and wireless chargers. Out of these types, chargers with separate cables are overwhelmingly more popular than other types. Because such chargers support various cables, single charger can be used to charge many different devices. They are also very convenient as only cables have to be replaced if they do not work anymore. On the other hand, it is impossible to replace the cables of chargers with cables attached if cables do not work anymore. While wireless chargers do not require cables, one has to purchase a charging paid and a battery cover along with a wireless charger.
According to Danawa Research, 57% and 37% of USB charger sales in 2020 were from chargers with separate cables and wireless chargers respectively. Because chargers with separate cables have become more popular recently, the percentage of sales is reaching close to 70%.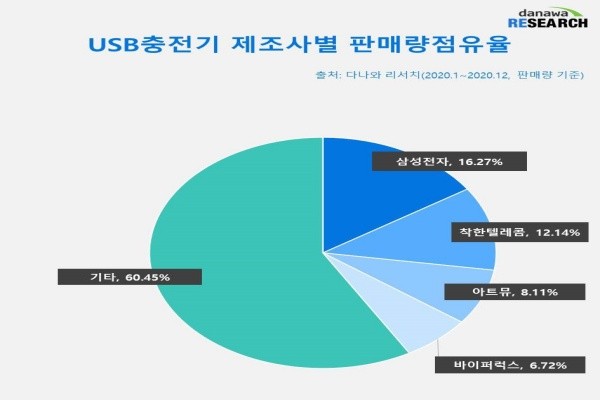 ◊Samsung Electronics' USB chargers currently the best sellers in South Korea
Samsung Electronics' USB chargers are the most popular chargers in South Korea. Samsung Electronics holds 16% of the share based on sales. After Samsung Electronics, it is GoodMobile with 12%, ARTMU with 8%, and Vapalux with 7%.
Samsung Electronics currently sells various chargers including fast cellphone chargers with USB Type C port for travel, Qualcomm cigajack USB multi-port fast chargers for cars, and USB-PD chargers. GoodMobile is establishing itself as a communication device company through a "Sky" brand. It also sells various chargers that support QC 3.0 and USB-PD.
Out of these chargers, Verbatim's 4 port multi-charger has been the most popular product. It has two USB-PD 3.0 100W ports and two Qualcomm QC 3.0 ports and is able to charge laptops and smartphones at the same time. Its smart charging technology automatically detects smart devices. By supplying up to 156 watts of power, it can charge a MacBook Pro in one hour and 50 minutes and it can also charge two MacBook Pros at the same time by supplying 60 watts of power for each laptop. Its blue smart LED allows one to easily see whether power is on or not and it has a overpower/overcurrent safety device built in for protection.
Baseus' GaN2 PRO fast charger is another popular charger. It can rapidly charge three devices out of a tablet, a cellphone, a laptop, and a portable video game console at the same time by providing 65 watts of energy. It supports various charging standards including USB-PD 3.0, Qualcomm QC 3.0, Qualcomm QC 2.0, and PPS. Because the charger is at least 40% smaller than other models, it has excellent portability. It supports 100W 5A fast charging cables. It is available through cross-border shopping.
Staff Reporter Kim, Junghee | jhakim@etnews.com