While the lack of negative pressure hospital beds issue is becoming more serious in South Korea as the country is facing a third wave of COVID-19, a South Korean research team has developed a mobile clinic module that will be able to solve the issue.
KAIST (Korea Advanced Institute of Science and Technology, President Shin Sung-chul) announced on Thursday that the COVID-19 Response Science Technology New Deal Project Group (Head: Bae Choong-sik who is also the dean of KAIST College of Engineering) completed the development of MCM that the group had been working on since July last year as part of the K-Quarantine Package Technology Development Project.
MCM developed by a research team led by Professor Nam Taek-ji of KAIST's Department of Industrial Design is a negative pressure isolation facility equipped with advanced medical facilities and equipment. It is 15 x 30 meters and has an area of 450 m2. It has a room designated for a critical patient and equipped with negative pressure facilities, four negative pressure rooms, a nurse counter and a dressing room, and a storage room for various medical equipment and a room for medical staff.
The module can be quickly changed or converted to a screening center or a negative pressure room by combining different parts and components. Its ability to have the room for a critical patient converted into a negative pressure room is also very effective.
The research team designed its own negative pressure frame and applied it to a modular structure that is connected to an air tent. It has built a stable negative pressure room with minimal structure.
Negative pressure frame controls the pressure and turns the space of the two air tents into negative pressure. Functional panels can be combined to the tents in order to build a medical facility or basic equipment for a patient's room. Also, the module can be used as an appropriate medical facility such as screening center, intensive care unit with negative pressure, and negative pressure room with different combinations.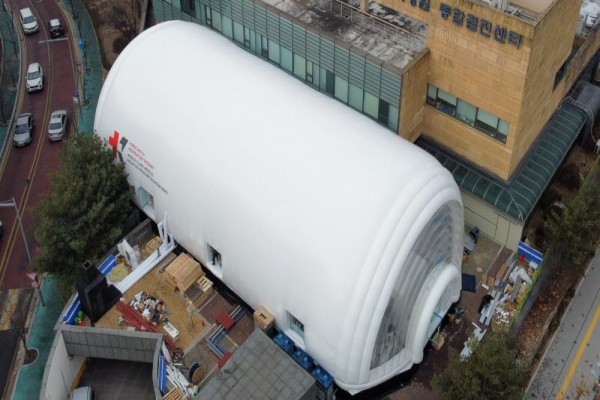 It takes about 14 days to make a MCM and it takes less than 5 days to transfer and install the module. A basic MCM unit made up of an anteroom and hospital rooms can be installed in just 15 minutes. Compared to extension using the current prefabricated clinics, about 80% can be saved in cost. The module can be stored with its volume and weight reduced by at least 70%. It can be stored like a military supply and be installed quickly in case of spread of an infectious disease. Because a modularized package can be shipped by flight, KAIST can also expect exportation of the entire module.
The research team set up a module with four hospital rooms for critical patients at the Korea Institute of Radiological Medical Sciences in Nowon-gu on December 28 and has been conducting simulations to inspect entire treatment process. It will continue to carry out simulations until next Thursday and begin working on commercialization.
ShinSungE&G will be in charge of making the MCM prototype in an air tent form. In case of a MCM with six to eight rooms for critical patients, the company will be able to deliver the module in three to four weeks.
"MCM minimizes extension of clinics and will become an important infectious disease prevention system." said Professor Nam. "We plan to make hardware of MCM and knowhow in MCM as key products and technologies of K-Quarantine and even push for exportation."
Meanwhile, KAIST officially established the group within the university in July last year with a financial support from the Ministry of Science and ICT and has been conducting related studies. A research team of 464 people is developing a science-based K-quarantine package that is able to deal with the entire cycle of infection from prevention to diagnosis to treatment.
Staff Reporter Kim, Youngjoon | kyj85@etnews.com