It is expected that South Korea's semiconductor exports will surpass $100 billion this year, which will be the second time ever for the country, and that South Korea will take back the top spot for amount of investments in semiconductor facilities from China and Taiwan after losing the spot two years ago. There will be strong demands for memory semiconductors, which are the main focus of Samsung Electronics and SK Hynix, as contactless economy continues to spread. Samsung Electronics' foundry business will also see increased orders for system semiconductors, and there will also be increased system semiconductor exports due to demands for 5G modem chips and image sensors. South Korea's semiconductor industry is expected to play a major role in vitalizing the South Korean economy once again through exports and investments.
The Ministry of Trade, Industry and Energy (MOTIE) and the Korea Semiconductor Industry Association (KSIA) announced "2020 Semiconductor Market Trend and 2021 Prediction" on Wednesday.
The global semiconductor market is expected to grow 8 to 10% this year compared to last year. The global memory market is also expected to grow 13 to 20%.
Based on these growths, this year's semiconductor exports for South Korea are estimated to be somewhere between $107.5 and $111 billion, which is a 10.2% increased from last year ($99.2 billion). Memory semiconductor exports are expected to increase drastically with DRAMs, which are likely to see a price jump this year, at the center and bring in somewhere between $70.3 and $72.9 billion which is a 12% increase. System semiconductor exports are estimated to bring in somewhere between $31.8 and $33 billion which is a 7% increase due to increased demands for 5G modem chips and image sensors and securement of multinational customers for South Korea's foundry industry.
Expansion of the 5G market and increased demands for front-end industries such as smartphones, servers, and PCs through continuous spread of contactless economy are some of the factors that may lead to increased semiconductor exports. Specifically, the smartphone industry is expected to see a 2.4% growth while the server and the PC industries will see a 6.0% jump and a 5.8% jump respectively due to resumed investments in data centers and increased number of people teleworking and taking classes online.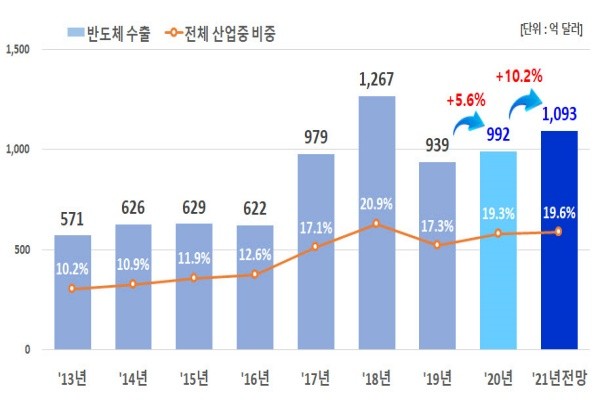 The DRAM market will start to see a growth early this year as there will be excess demands while the NAND flash memory market will maintain excess supplies in the beginning of this year and start to see excess demands starting from the second half. The system semiconductor market is expected to see about a 5.5% growth due to vitalization of contactless economy and accelerated supply of 5G.
"Forecast for the semiconductor industry is looking positive this year once again." said one official from the semiconductor industry. "The foundry industry will continue to enjoy the situation where its customers have to place orders six months in advance."
One official from the semiconductor equipment industry said that there has been rapid supply of semiconductor equipment as Samsung Electronics is conducting large-scale investments in the memory semiconductor field.
South Korea is also expected to take back the top spot for amount of investments in semiconductor facilities from China and Taiwan after losing the spot to them in 2019.
As positive expectations are waiting for South Korea's semiconductor industry, Samsung Electronics' market capitalization stood at $500.1 billion at the end of last year and surpassed TSMC and rose to the top spot once again after five months. SK Hynix is also in the third place after Samsung and Intel based on sales spot and it is expected to see its competitive edge in controller grow by acquiring Intel's NAND memory business.
"Despite negative factors such as COVID-19 and sanctions on Huawei in 2020, South Korea's export industry had continued to lead recovery in exports and be a strong support for the South Korean economy." said Minister Sung Yoon-mo of the MOTIE. "The industry will once again lead vitalization of the South Korean economy and turnaround in positive exports and become a driving force that accelerates digital transformation."
Staff Reporter Ham, Bongkyun | hkbone@etnews.com & Staff Reporter Kang, Hyeryung | kang@etnews.com