"Portability" is the biggest factor when purchasing a laptop. In order to main productivity, most of laptop manufacturers have been consistently working on improving portability of their products.
However, performance has always been an issue when trying to improve a laptop's portability. When laptops are made thinner in order to have their portability improved, there will be less cooling within the laptops compared to desktops and less computer parts such as external graphic card. Battery life will also be shortened as smaller batteries have to be used.
However, technology innovation has helped overcome these physical disadvantages and it has led to a laptop that is very light and has excellent performance at the same time and can be considered as the "perfection" of laptops. This laptop is LG Electronics' "2021 LG Gram 16 (16Z90P)".
The Electronic Times reviewed LG Electronics "LG Gram 16".
◊LG Gram 16 registered as the world's lightest 16-inch laptop
As many people are already aware, LG Electronics "Gram" is a brand that emphasizes "weight" which represents a laptop's portability. The brand brought a huge shock to the global laptop market in 2014, when it was released for the first time, as it only weighed around 1 kilogram which seemed impossible at that time. The brand is living up to its reputation through the 2021 LG Gram 16 model that is the first 16-inch model of the brand. LG Gram 16, which only weighs 1190 grams, is recorded as the world's lightest 16-inch laptop on the Guinness World Records.
One has to marvel when coming across "LG Gram 16" for the first time as it is incredibly light despite its large screen. It completely goes against a common sense that PCs with batteries built in must feel heavy. Even when it is compared to other laptops with similar weights, it feels relatively lighter than them as its weight is distributed appropriately.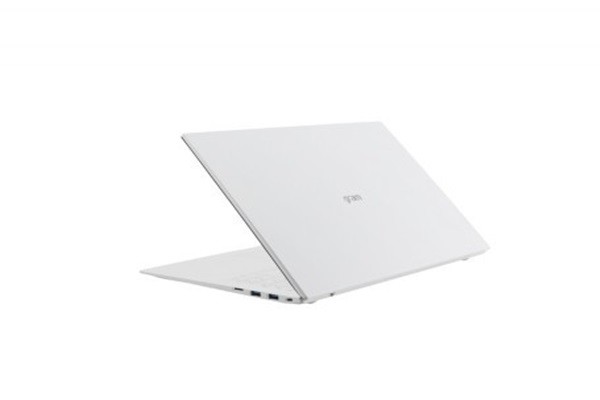 ◊LG Gram 16 comes with both portability and productivity
A 16-inch laptop being extremely light is a huge merit. While many desktops use large screens that are at least 27 inches, most of them used 16 or 17-inch screen in the past. Considering this fact, it is fair to say that "LG Gram 16" is equipped with laptop's portability and desktop's productivity.
Efficiency of LG Gram 16's productivity can be felt through its keyboard, palm rest, and touch pad that have become wider just like its screen. Its keyboard that also includes number pad has enough space so that even people with huge hands do not have to type with their hands so close together. It provides comfort similar to that of desktop when documents need to be prepared for a long time. Appropriate amount of repulsive power and feeling of keyboard also add enjoyment to typing while a spacious touchpad adds accurate pointing and comfort.
Despite the fact that "LG Gram 16" has become lighter and has improved productivity, it is breaking common sense as its overall size has become smaller. Although it is a 16-inch laptop, its size is actually smaller than that of a normal 15-inch laptop.
LG Gram 16's size is 356 x 244 x 16.8mm and it is smaller than LG Electronics' 15-inch laptop 15U50N (363 x 247mm). This indicates that LG Electronics has minimized any leftover space excluding the model's display and that the model has much better portability than other 15-inch laptops despite having a 16-inch display. Because it is not common for a laptop to be smaller in size while having a bigger screen, LG Gram 16's distinctiveness is becoming more magnified.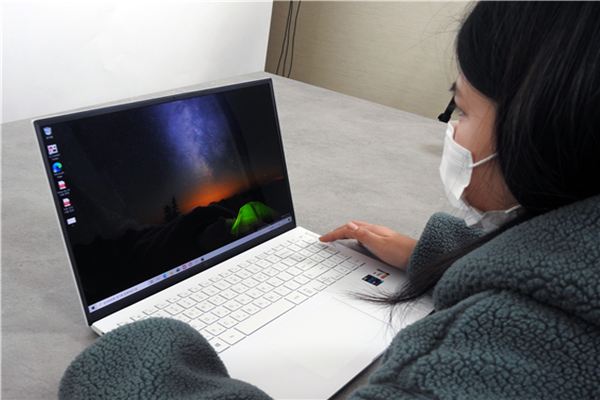 ◊LG Gram 16 also boasts sophisticated design and impressive display
"LG Gram 16" is applied with straight lines and a sophisticated design. The Electronic Times reviewed LG Gram 16 with snow white color that raised the laptop's luxuriousness. The laptop also perfected slim bezel on all four sides through perfect hinge and provided an excellent immersive experience.
Its display is a 16-inch screen and has a 16:10 aspect ratio. Because LG Gram 16 is able to check more information than other laptops with a 16:9 aspect ratio, one has to scroll less while surfing the web.
It also has a WQXGA (2560 x 1600) resolution that provides very clear images even on a 16-inch screen. It has accurate color representation and excellent viewing angle with up to DCI-P3 99% of high color gamut and IPS display and it also provides more vivid and three-dimensional sound through DTS X: Ultra.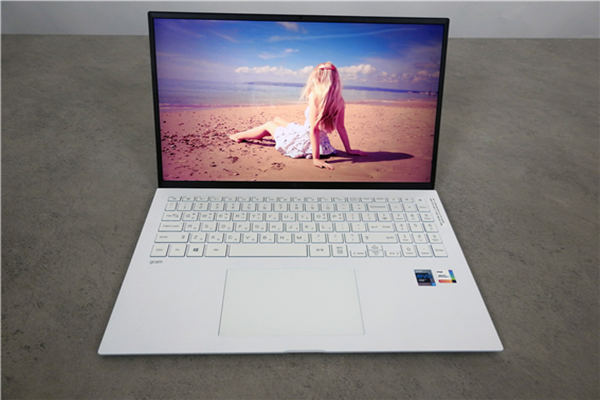 ◊LG Gram 16 providing powerful performance through 11th Generation Intel processor
Intel's 11th Generation processor has also played a role in making "LG Gram 16" the "complete laptop". Intel's 11th Generation processor, which is also called Tiger Lake, is applied with Willow Cove architecture that utilizes a new 10nm SuperFin process and has drastically improved overall CPU performance and internal graphic performance.
Combination of the reviewed model's I7-1165G7 processor, LPDDR4x 4266Mhz 16GB memory, and NVME SSD 1TB allows the model to perform document work and heavy programs such as photoshop or video editing at a level of a desktop.
When the model was ran through CrystalDiskMark, the model showed very fast read speed of 45.49MB and write speed of 170.19MB. The model showed 2748.4 points for multi thread and 557 points for single thread, which are higher than that of i7-7700k, when it was ran through a freeware called CPU-Z and displayed low power and high performance.
The model recorded 4,498 points and 1,339 points for multi core and single core respectively when it was ran through Cinebench R23 and showed equal or better performance than the past generation desktop CPUs.
The model was also ran through 3DMark Fire Strike and it scored 5,621 points and 10,730 points for graphics score and physics score respectively and a combined score of 1,830 points and a total score of 4,949 points.
The model scored a very high graphics score, which shows performance of graphics card, despite having an integrated graphics. Unlike past integrated graphics that were there only for screen display, LG Gram 16 shows vastly different performance. The model also recorded a very high physics score, which shows performance of CPU, and displayed performance similar to that of the past generation desktops. Combination of drastically improved integrated graphics and CPU compared to past laptops will allow LG Game 16 be an excellent gaming laptop as well.
Even when a heavy computer game such as "Battleground" was played on the model, the model was able to maintain somewhere between 50 and 60 frames. Play of an open-world game such as Genshin was also very smooth even with basic options. Large screen and portability show why "LG Gram 16" is the "complete laptop".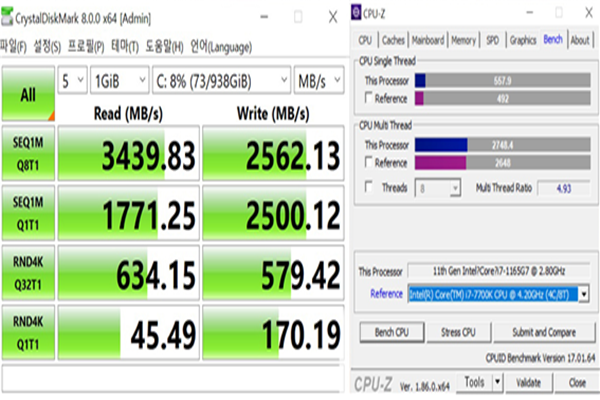 ◊LG Gram 16 also receives EVO certification and mounted with various convenient features
"LG Gram 16" is also an EVO certified laptop. EVO certification is given to a laptop with consistent battery response, system restart in just one second from a power-saving mode, 9 hours of battery life when Full HD display is used, and minimum of 4 hours of battery life when Full HD display is used with just 30 minutes of charging. LG Gram 16 is also durable, which is a weakness of other slim laptops, as it passed a United States defense standard called MIL-STD.
It is equipped with a 80Wh battery and has a battery life of 10 hours when it is under normal operation. It supports 65W AC charger and is able to be fully charged in about 2 hours and 30 minutes.
It has two Thunderbolt ports and is able to send a 5K screen. It has two USB 3.1 ports, a HDMI port, and a headphone jack and a UFS card slot (also a Micro SD card) and it can be easily connected to various devices. Its versatility has also been improved as it can be charged through an external battery even without an adapter and replaced A/C connection with Thunderbolt connection.
It comes with a Windows 10 OS and Microsoft's various security solutions and convenient features.
It provides fingerprint recognition through a power button and a virus and threat protection service through log-in and vaccine solution (Windows Defender) through a facial recognition function. Its fingerprint recognition and face recognition showed fast responses as log-in was immediate.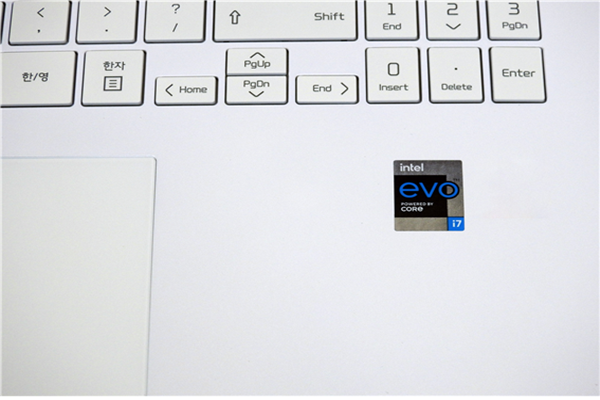 ◊LG Gram 16 brings portability, performance, and large screen at the same time
The world is trending towards a contact-free society due to COVID-19. As teleworking, remote meetings, and online lectures are becoming part of daily lives, level of interests on laptops stands at the highest point ever.
"LG Gram 16" brings portability, excellent performance, and a large screen at the same time and is presenting a new standard of laptops. There are many high-performance laptops that are making their appearances with a next-generation CPU. However, presence of "LG Gram 16", which is placed on the Guinness World Records for how light it is, is easily unrivaled.
Staff Reporter Lee Ho | dlghcap@nextdaily.co.kr