All-time competitive bidding war is expected to take place in South Korea's electric vehicle (EV) battery market in the upcoming year as Hyundai Motor Company is looking to select an EV battery supplier for its electric vehicle "Ioniq 7" that is based on its electric vehicle platform called E-GMP (Electric-Global Modular Platform). Potential winner is expected to sign a contract worth $9.16 billion (10 trillion KRW) with Hyundai Motor Company.
LG Energy Solution, SK Innovation, and Samsung SDI, which are the three major battery makers in South Korea, have been trying to win over Hyundai Motor Company with their respective high-nickel batteries with at least 90% nickel content. Although Chinese battery makers are also participating in the bidding, it seems to be ranked below the three South Korean companies when it comes to high-nickel battery technology. Because one of the three companies is likely to become the supplier, relevant industries are hoping that a partnership between a South Korean automaker and a South Korean battery maker can be an opportunity for South Korean companies to gain a lead in technology in the global electric vehicle market.
According to the industry on Tuesday, Hyundai Motor Company plans to select the battery supplier for Ioniq 7 in the upcoming year. Ioniq 7 is Hyundai Motor Company's third electric vehicle based on E-GMP.
LG Energy Solution, SK Innovation, and Samsung SDI are all participating in the bidding. China-based battery makers CATL and AESC are also competing against the other four companies in the bidding.
Although the exact bidding price is not reported to the public, it is estimated that the price is somewhere around $9.16 billion.
One official from the industry said that global battery makers are paying attention to Hyundai Motor Company as the automaker plans to release its Ioniq series one after the other starting from the new year.
The battery industry predicts that the competition between the five companies will be more intense than biddings in the past. SK Innovation (Ioniq 5) and LG Energy Solution (Ioniq 6), which have already secured primary and secondary productions of EV batteries, will focus on securing additional supplies. Samsung SDI has been very active in the bidding process trying to secure supplies for Ioniq 7.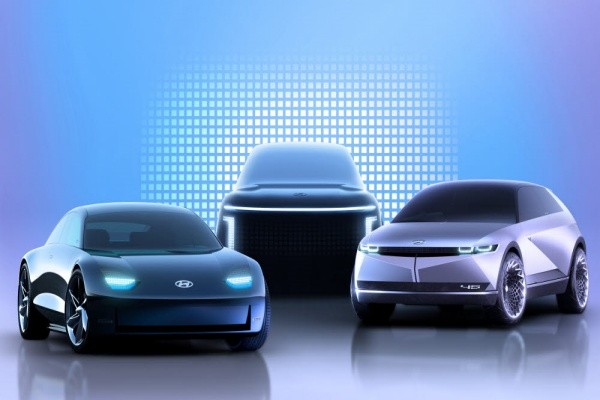 The three South Korean companies are trying to win over Hyundai Motor Company with their high-nickel batteries with increased nickel content. It is reported that SK Innovation is participating in the bidding process with its NCM9½½ (90% nickel, 5% cobalt, 5% manganese) batteries. Hyundai Motor Company's primary production of EV batteries for Ioniq 5 involves SK Innovation's NCM811 batteries. SK Innovation is also looking to supply its NCM9½½ batteries to Hyundai for Ioniq 7 as well.
LG Energy Solution is reported to be participating in the process with its NCMA (nickel, cobalt, manganese, aluminum) batteries with 90% nickel content. Its NCMA battery has raised nickel content to 90% and reduced cobalt content to below 5%. Its battery's competitive edge comes from the fact that the battery does not require much cobalt and uses aluminum, which is much cheaper than cobalt, and thus much cheaper than other batteries that require more cobalt.
Samsung SDI is participating in the process with its NCA (nickel, cobalt, aluminum) batteries with the highest nickel content out of the three companies. While the exact nickel content is not known, some believe that the batteries have 91% nickel content. While the company's NCA batteries have been mostly used for IT devices, the company is looking to supply them to electric vehicle manufacturers as it has already proven how safe its NCA batteries are.
It is likely that CATL and AESC are participating in the bidding process with NCM811 batteries. Because their main products are LFP batteries, it is reported that their NCM811 batteries do not measure up to the level of three South Korean battery makers' high-nickel battery technologies.
The focus is on whether Hyundai Motor Company will choose one of the three South Korean battery makers. While the two Chinese battery makers will continue to pitch the fact that their products are cheaper, it is likely that Hyundai Motor Company will go with one of the three South Korean companies based on the fact that Ioniq 7 is the highest model of the Ioniq series.
"Ranges of Hyundai Motor Company's electric vehicles will be much improved with batteries that have at least 90% nickel content." said one official from the industry. "No matter who Hyundai chooses as the supplier, a new cooperation model will be established between the automaker and the three South Korean battery makers."
Staff Reporter Kim, Jiwoong | jw0316@etnews.com