Tesla has become the first automaker to receive official ratings for games that are played in its electric vehicles and given signs to opening of an IVI (In-Vehicle Infotainment) system content market. According to the Game Content Rating Board, the board has classified "Fallout Shelter", "Stardew Valley", and "Cuphead" as permitted for use by all (for all ages) and 12 year olds (12+). All three games are already rated on PC, console, and mobile platforms and are available on all three platforms.
However, they are the first ones to be rated as games that are to be played specifically in cars. Tesla's electric vehicles allow drivers and passengers to play games on the large touch-screen IVI system while vehicles are parked or being charged. Although Tesla has made games available on IVI system updated with Software Version 10.0, it did not obtain any rating for the games until recently.
Every game played in South Korea needs to have a rating. Games that are played in cars are no exception. As a result, Tesla received ratings for 18 games including Fallout Shelter, Stardew Valley, and Cuphead in this month alone.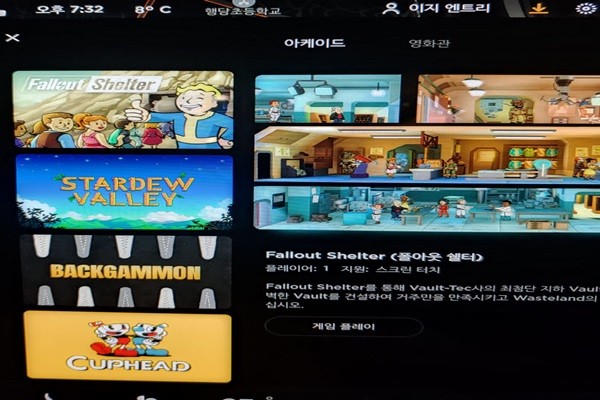 As Tesla received ratings for every game provided by its IVI system, it has opened a way for games that can be played in cars to be distributed legally. Some also predict that there will be a slew of such games being distributed legally in the near future. IVI is seen as a next battleground for software. McKinsey & Company estimated that the global content market would be worth up to $750 billion by 2030. Considering the fact that games account for $81 billion in the global mobile content market that is worth $112 billion, there is a great chance that IVI contents will be popular contents.
It is reported that Tesla will station video game engineers at Gigafactory Texas. It is also reported that CEO Elon Musk is a well-known video game mania and that he likes games with a story and philosophy like "Bioshock". While Tesla's electric vehicles provide mostly simple games due to a capacity issue, they are built so that they will be able to support more complicated games through external controller and IVI system.
Apple is seeming to expand its CarPlay after it decided to postpone "Project Titan" and jumped into automotive business. CarPlay is a service that allows few iOS applications to be used in cars after an iPhone is connected to an IVI system. Considering the fact that people are able to enjoy contents through IVI systems by jailbreaking, there is a chance that iOS games can also be played on IVI systems in the near future. Apple is currently offering "Apple Arcade". It also obtained a right to rate its games on its own in South Korea. "Automakers have been thinking about what services can be offered by their products for a long time." said Wie Jeong-hyeon who is a professor of Chung-Ang University's department of business administration. "As autonomous driving and AR (Augmented Reality) have changed a concept of mobility, cars will become a type of gaming platforms in the future."
Staff Reporter Lee, Hyeonsoo | hslee@etnews.com