The South Korean government, South Korea's three major mobile carriers, and small and medium companies have established 5G-based national networks in national agencies and local government groups and begun testing the networks.
They have improved convenience and security by replacing wired LAN-based government networks with 5G networks, and such work is expected to make a major contribution towards vitalizing the 5G convergence industry that will target global markets.
SK Telecom, KT, and LG Uplus consortiums that are participating in the "5G-Based National Network (government network) Enhancement" project, which is ran by the National Information Society Agency (NIA) have completed setting up 5G networks and solutions for five national agencies.
These mobile carriers have formed consortiums with small and medium companies and set up 5G working environments specialized for national agencies and local government groups that are in need for such environment.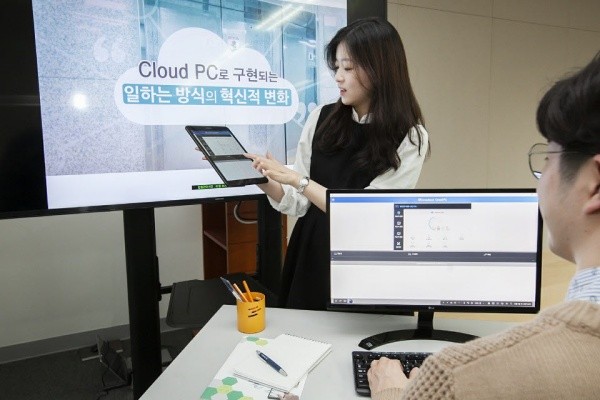 ◊SK Telecom's consortium builds 5G network based on virtual desktop infrastructure solution
SK Telecom has formed a consortium with SK Broadband, Korea Communications Agency (KCA), NTELS, and Telit Wireless Solutions and built a 5G-based mobile working environment for the Gyeonggi-do Provincial Government.
The consortium has set up South Korea's first 5G NSA-based (Non-standalone) traffic node (network) for a public agency and secured security through network segmentation. It has set up SK Broadband's cloud PC VDI (Virtual Desktop Infrastructure) solution into a virtually separated 5G network so that government officials can perform their duties through various devices regardless of time and location and not limited by performance or type of PC.
The KCA will measure electromagnetic waves before and after 5G government network is introduced and prepare a guideline for reducing negative effects of electromagnetic waves on human body after analyzing the measurements.
The consortium will look to become the first in the world to apply SA-based (Standalone) network slicing and biometric authentication security technologies. These technologies are expected to improve security and create a foundation for convergent services.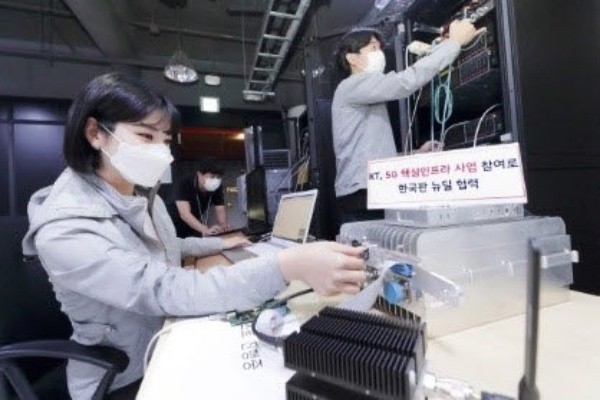 ◊KT builds various 5G-based working environments
Consortium made up of KT, MarkLink, and Netcube Technologies have set up a "5G-LAN" solution for the Ministry of Science and ICT (MSIT). It has replaced a wired LAN network within the ministry's office with a commercial 5G base station and applied a 5G network slicing solution that is dedicated for companies. It will also provide 5G core network that is designated for government networks and access technology. Government officials will be able to access a government network without any issue while teleworking or during business trips and thus improve their productivity.
Consortium made up of KT and Infomark have set up a 5G network that is dedicated for companies and a VDI (Virtual Desktop Infrastructure) solution for the Korea Railroad Corporation (KORAIL). The corporation's executives and employees will now access a central computer environment that has become virtual through the consortium's VDI solution rather than their own PC environment. Its VDI solution prevents business data from being leaked and guarantees one of the best securities.
Consortium made up of KT and InnoWireless have built a 5G-based working environment for the Sejong Special Self-Governing City's Government Complex. Based on the environment, it has also built a 5G-based real-time video conference system for COVID-19 screening clinics. This environment is expected to improve work efficiency and rapidly process real-time civil complaints.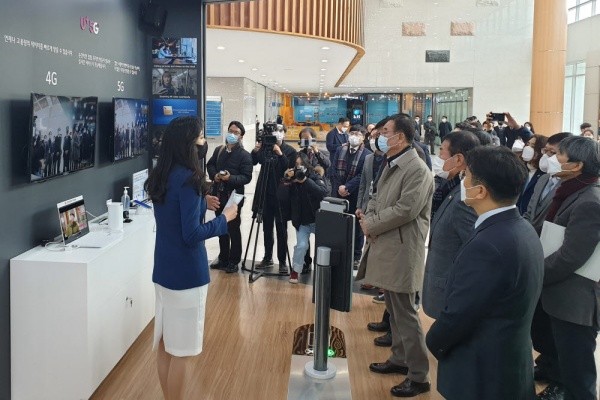 ◊LG Uplus builds a 5G smart campus
LG Uplus has built a 5G smart campus at Kumoh National Institute of Technology after forming a consortium with seven companies that include Partron, Wins, and Axgate.
The consortium will replace wired networks with cloud-based 5G wireless network. Working system that was only accessible with PCs that are set up within the school will also be accessible through virtual PCs that are connected to a cloud server. The school's faculties and personnel will be able to access the system from anywhere and anytime using smartphones or laptops that are connected to a 5G network.
5G wireless network will improve the school's working environment and be utilized to find convergent services such as remote teaching with low latency, industry-academic R&D platform, and face recognition AI camera that utilize 5G's superfast speed and ultralow latency. The consortium will introduce smartphones that support the 28 GHz millimeter wave band and 5G routers and utilize them for different tests and build business models that are specialized for public services and education field.
A NIA official said that the project has become an exemplary case where mobile carriers are leading consortiums that also involve small and medium companies and that it would look to have them secure a reference for global markets by requiring government agencies to set up 5G networks based on the 28 GHz band.
Staff Reporter Park, Jisung | jisung@etnews.com