LG CNS signed a $91.5 million (100 billion KRW) e-government contract that is considered as the biggest single e-government export deal by a South Korean company. Such contract will not only help South Korea's e-government industry become global, but it is also expected to help small and medium companies enter foreign markets as well.
LG CNS announced on Monday that it was selected as the company that would build a CTAS (Core Tax Administration System) for the Indonesian government.
The company has been successfully managing Indonesia's national financial information system since 2015 when it built the system. Successful management of the system has led to a trust by the Indonesian government of LG CNS and eventually the recent contract for CTAS.
It has gained experiences in various tax systems and possessed relevant abilities by building an integrated national tax system, a cash receipt institution, and a big data system for the National Tax Service of South Korea. It is looking to turn this project into a successful case of exporting digital transformation (DX) for South Korea's e-government field by applying its knowhow and advanced information technologies such as cloud and big data.
The company also has an experience in building the National Police Agency System for Indonesia back in 2007. Some say that there is a "DX Korean Wave" in Indonesia as a South Korean company obtained projects from a national financial information system to a CTAS.
The National Tax Service played a major role in LG CNS winning the project. It had actively provided its help to LG CNS, which was the only South Korean company to participate in a bidding for the project that involved seven global consortiums, even from an early stage of writing a proposal. The director of the National Tax Service also sent a recommendation letter to the minister of the Indonesian government's Ministry of Finance.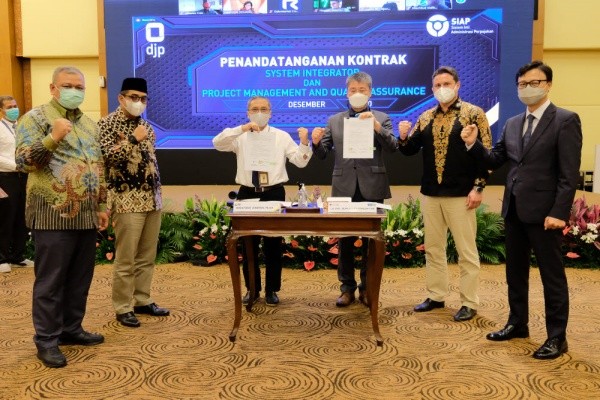 While a CTAS is being built, officials from the National Tax Service will teach Indonesian officials about their experiences with an advanced national tax system and conduct teachings on overall tax administration work.
With LG CNS obtaining the project, there will also be many small and medium software (SW) companies that will be going overseas. In the proposal, LG CNS included a plan of utilizing solutions from small and medium companies from various fields such as cloud solution, data management, and extraction.
Depending on a negotiation with the Ministry of Finance, small and medium SW companies will be able to obtain opportunities to go overseas.
"This is a successful case of an export deal that was obtained through cooperation between the South Korean government and a private company." said Hyeon Shin-kyun who is the vice president of LG CNS DTI division. "We are going to closely work with small and medium companies that will be also be going overseas with us and inform the world about South Korea's IT service technologies."
The goal of the project is to systematize entire tax administration work in Indonesia. 42 million taxpayers and 32,000 tax officials will be using LG CNS's system. LG CNS will begin the project next year and complete it by the end of 2024.
The Indonesian government has set up a goal to maximize its administration's efficiency by restructuring the entire Directorate General of Taxes work. It plans to combine tax-related systems and connect them to its national financial information system as well. Its CTAS will handle income tax, corporate ta, withholding tax, value-added tax, luxury tax, and land tax.
Staff Reporter An, Hocheon | hcan@etnews.com