CONTROLWORKS, a South Korean company that specializes in autonomous driving solutions, formed a consortium with Hanyang University ACE LAB and LG Uplus and developed a country's first automatic parking service technology. Once the driver designates a parking spot with his or her smartphone application, his or her vehicle will then drive through public roads on its own and part at the designated spot of a parking structure.
The consortium announced on Wednesday that it had conducted 137 private tests on an 800 meters path from YTN News Square in Sangam-dong to Sangam 1 Public Parking Structure and achieved 100% accuracy.
It had conducted tests using Hyundai Motor Company's Genesis GV80 that was at a level 4 of driver assistance technology and equipped with five LiDAR (Light Detection and Ranging) sensors from RoboSense and radars and cameras. Although the vehicle was at a level that did not require an assistance, a driver had to be in the vehicle throughout the tests based on a South Korean law.
Although there were five crosswalks on the path, there was not single accident during the entire tests. The Sangam-dong area where the tests were conducted is a testbed for C-ITS (Cooperative Intelligent Transportation System) project, and the vehicle was able to receive information from signals in just 0.1 second through communications network.
The consortium was able to develop automatic parking service with a financial support from the city of Seoul. CONTROLWORKS and Hanyang University were responsible for development of hardware (HW) platform and software (SW) platform respectively while LG Uplus was responsible for providing 5G mobile network and cloud server.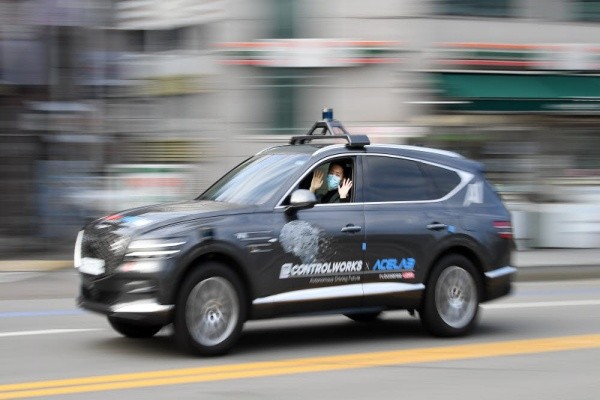 The consortium developed and applied AI-based surrounding environment recognition system, 5G C-V2X-based (Cellular Vehicle to Everything) signal recognition system, accurate map construction and accurate location recognition system, and surrounding environment information-based travel route formation and vehicle control technology.
Parking space is located as AI technology analyzes videos from CCTVs that are uploaded on a cloud server. Once a driver selects a location through an automatic parking service application, his or her vehicle will automatically drive to the designated location. Based on a 5G network, the vehicle will be able to follow signals and communication and perform stops and acceleration smoothly.
Vehicle will be able to locate the designated spot even in an indoor parking lot where GPS will not be able function. Various sensors such as LiDAR, radar, and camera also assisted the vehicle with automatic parking even in an indoor parking lot. The vehicle also utilized an indoor HD (High Definition) map.
The consortium's technology is meaningful from a standpoint that it has proved that it is possible to implement automatic parking service technology using technologies such as C-ITS, 5G, and AI. It is possible that its technology can also be used for robots and in limited spaces such as factory.
The consortium plans to develop a service that assists vehicle to leave a parking lot and find its driver on its own by early next month.
After considering current climate of the COVID-19 pandemic, it will also consider public demonstration next month as well. Afterwards, it will receive online applications from people to experience its service. Its technology is able to provide various services such as unmanned valet parking service. However, it is expected that a significant time will be required for its technology to be commercialized as it is currently illegal for vehicles without drivers to be on public roads.
"Our service based on key future technologies such as autonomous driving and automatic parking will be able to improve our country's competitive edge in automotive technology and be used as a part of services for the weak such as disabled people, older people, and pregnant women." said President Park Seung-beom of CONTROLWORKS.
Staff Reporter Park, Jinhyung | jin@etnews.com