Orsted, which is a world leader in offshore wind energy based in Denmark, declared that it plans to enter the South Korean market. Its decision comes from a potential growth of the South Korean market as the South Korean government pursues Green New Deal.
Orsted had a press conference at the Conrad Seoul on Tuesday and announced that it plans to build a 1.6 GW offshore wind power complex near Incheon. This is the first time that a global offshore wind energy company formalized a plan to enter the South Korean market.
Its plan is to provide clean energy to 1.3 million households in South Korea through its complex in Incheon. It will break ground in 2025 and go into operation in 2027. Its plan is to set up 100 wind turbines.
It announced that it would build the complex on its own after obtaining necessary permits and invest about $7.21 billion (8 trillion KRW).
"Our Incheon project will contribute to vitalizing South Korea's offshore wind energy industry." said Matthias Bausenwein who is the president for Asia Pacific. "Based on our experience in offshore wind energy that has been proven globally, we are going to pursue a successful project."
It is reported that the company received a permit from Ongjin-gun regarding use of public waters and is conducting a feasibility study. Generally, a development process of wind power complex goes through selection of partners, permit for energy generation business, and permit for development.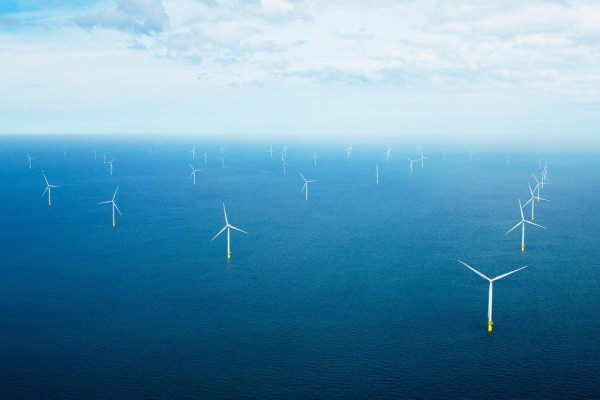 Orsted has built about 1,500 offshore wind energy facilities in Denmark, the United Kingdom, Germany, the United States, and Taiwan. It raised $10.7 billion in profit last year and its experience in offshore wind energy is considered the best in the world. Its Walney Extension in the United Kingdom is the world's biggest offshore wind farm. It is 32 times bigger than the size of Yeooui-do and it supplies 659 MW of electricity through 87 wind turbines.
The reason why Orsted has decided to enter the South Korean market is due to the market's potential growth. The South Korean government is pushing for "Green New Deal" that will increase jobs and investments through transition to renewable energy.
Orsted's goal is to increase amount of offshore wind energy generation from 124 MW to 12 GW by 2030. Considering the fact that the total capacity of offshore wind power plants installed throughout Europe in 2019 was 15.8 GW, going from 124 MW to 12 GW by 2030 is a very fast pace.
President Moon Jae-in declared "2050 carbon neutrality" last October and urged a rapid transition to renewable energy. Orsted plans to achieve carbon neutrality by 2040.
Although receiving permits will be the key, Orsted plans to accelerate its plan to target the South Korean market. According to International Renewable Energy Agency (IRENA), LCOE (Levelized Cost of Energy) of offshore wind energy went down from $0.19/kWh in 2016 to $0.13/kWh. The cost is expected to drop 60% in 2022 compared to the present. This trend indicates that supply of offshore wind energy is beginning to accelerate. It is likely that Orsted plans to target Jeonnam and Incheon and Gyeonggi that have potentials to create 12.4 GW and 11 GW of offshore wind energy respectively.
Orsted plans to work with various equipment and materials makers from South Korea. It already formed partnerships with Hyundai Engineering & Steel Industries, Samkang M&T, LS Cable & System, POSCO, CS Wind, and Hyosung.
"As a global leader in offshore wind energy, we plan to assist South Korea becoming one of powerhouses in renewable energy based on our large-scale experiences in wind power, engineering capability, and knowhow in building local supply chains and reducing production cost." said Bausenwein. "We are going to vitalize local economy by creating billion dollars' worth of economic effect and jobs with high quality."
Staff Reporter Ryu, Taewoong | bigheroryu@etnews.com