Samsung Electronics is reported to be looking into incorporating UDC (Under Display Camera) into its next foldable smartphone. UDC is placed underneath the display so that it is not visible externally.
According to the industry on Thursday, it is reported that Samsung Electronics has decided to use UDC for its next foldable smartphone and begun working on development of necessary technologies.
Samsung Display is working on display that is needed for UDC while Samsung Electronics System LSI business division is in charge of development of image sensor for UDC.
Samsung Electronics plans to apply UDC to "Galaxy Fold 3" that is expected to be launched in the third quarter next year.
Most of smartphone screens are designed so that it either has punch-hole display or notched display due to camera placement.
However, UDC will not require either design as it is placed behind the display. This means that a full screen that covers the entire screen can be materialized.
It is reported that Samsung Electronics plans to commercialize UDC by combining display technology and camera technology. Generally, placing camera behind the screen faces an issue with taking pictures due to the presence of the display as light that needs to come through lenses can be refracted by the display or lose its intensity.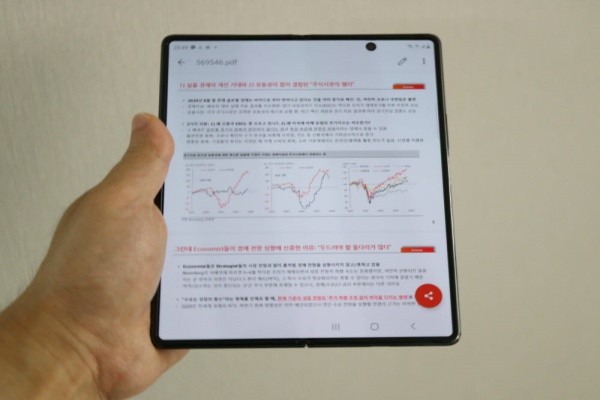 Samsung Electronics plans to solve the issue with a special display design. "It is heard that Samsung Electronics is designing a display that has wider pixel spacing in the area where UDC will be placed in order to secure opening ratio and so that there will not be an issue with taking pictures." said one industry official who is familiar with the situation. In other words, the display will have a path where light can easily pass through so that there will not be any issue with taking pictures. Samsung Electronics plans to apply corresponding image sensor and an image correction algorithm and give shape to a final UDC.
Because "implementation of full screen" is the biggest strength of UDC, Samsung Electronics is looking into applying the technology for its next foldable smartphone. Galaxy Fold is the company's foldable smartphone that has its screen fold in half horizontally. If a camera is not visible from the screen, a much smoother and bigger screen can be provided for potential Galaxy Fold 3 users.
Galaxy Fold 3 is expected to be the first smartphone applied with UDC by Samsung Electronics. As the global smartphone market becomes saturated, Samsung Electronics is promoting its foldable smartphones as its strategic smartphone. It is likely that the company will look to differentiate its foldable smartphones with UDC technology.
Vietnam-based VinSmart and China-based ZTE announced smartphones with UDC prior to Samsung Electronics. However, they did not cause much sensation as their performance was much poorer than expectations. As a result, it will be interesting to see whether Samsung Electronics can cause a huge impact in the global smartphone market by commercializing its own special UDC.
Staff Reporter Yun, Geonil | benyun@etnews.com