A research team from KAIST (Korea Advanced Institute of Science and Technology, President Shin Sung-chul) was awarded a best paper award, which is given to top 1%, at "ACM UIST 2020" that is considered as one of the best international symposiums in the field of human-computer interaction.
The institute announced on Wednesday that a research team that had Professor Andrea Bianchi of the department of Industrial Design and top graduate students going through master's course participating developed a VR (Virtual Reality) controller "ElaStick" and was awarded a best paper award at ACM UIST 2020. This is the first time that a South Korean institution was awarded with a best paper award.
ElaStick is able to adjust flexural rigidity in real time and allows its user to experience a virtual object realistically. Flexural rigidity is a property related to elasticity of an object. An object becomes more elastic due to low flexural rigidity that is dependent on the object's length and thickness.
Current VR controllers focus on the virtual object's weight, shape, and expression of movement. There are limitations to expressing flexural rigidity such as vibration that occurs during swinging or when a movement comes to a sudden stop.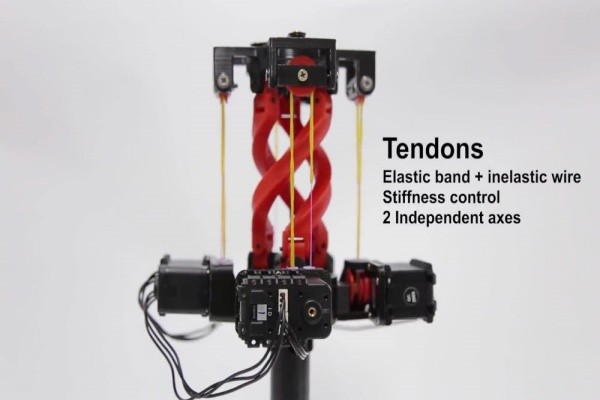 The research team connected four cables to a quaternion joint that is able to bend in every direction and allowed the controller's flexural rigidity to be adjusted. ElaStick provides an experience that allows its user to hold virtual objects in various shapes and sizes depending on circumstances. The research team explained that ElaStick is able to materialize even small differences of an object such as the shape of a blade.
The research team proved through its studies that ElaStick's feel improves reality, immersion, and pleasure of VR.
Not only can ElaStick be used as a controller for VR games, but it can also be used to as joints of a robot that requires stiffness control.
"We are extremely pleased that we became the first South Korean institution to receive a best paper award that was given to top universities and institutions such as MIT, Microsoft, and Max-Planck Institute in Germany." said Professor Andrea. "We expect that there will be commercial value of using ElaStick in various virtual settings such as remote robot surgery, medical surgery, and games."
Meanwhile, a research team led by Professor Nam Taek-jin from the same department received "honorable mention" from the symposium.
Staff Reporter Kim, Youngjoon | kyj85@etnews.com