Samsung Electronics has begun making preparation for mass-production of Mini-LED backlight LCD TV (Mini-LED TV). It is reported that the company is already working on production lines of Mini-LED TV in Vietnam and that the company is getting close to launching Mini-LED TVs shortly.
According to the industry on November 15, Samsung Electronics is currently working on manufacturing facilities for Mini-LED TV in Vietnam. It is reported that the company invested about $36.1 million (40 billion KRW) to construct 50 Mini-LED TV production lines. It is likely that President Han Jong-hee of VD (Visual Display) division inspected the state of Mini-LED TV production when he took a business trip to Vietnam last month.
Mini-LED TV is a LCD TV that uses LED that is very small in size (100 to 200 micrometers) as the backlight. Because the size of such LED is less than half of that of current LEDs that are used for TVs, lighting, and cars, Mini-LED TV can have many more LEDs than other TVs.
As a result, Mini-LED TV is able to provide brighter and clearer screen than current LCD TVs. Its brightness is much more improved due to number of LEDs, and it can display black color, which has been a weakness of LCD, much clearer by using "local dimming" feature that partially controls LED.
Up until last August, the company had taken a cautious position towards commercialization of Mini-LED TV by stating as it did not decide on a potential release date of Mini-LED TV yet even though it was working on Mini-LED TV technology. However, the company's recent investment in Mini-LED TV production lines indicates that it plans to mass-produce Mini-LED TVs and shows its intention to grow its Mini-LED TV business. It is reported that Samsung Electronics plans to ship two million Mini-LED TVs in 2021.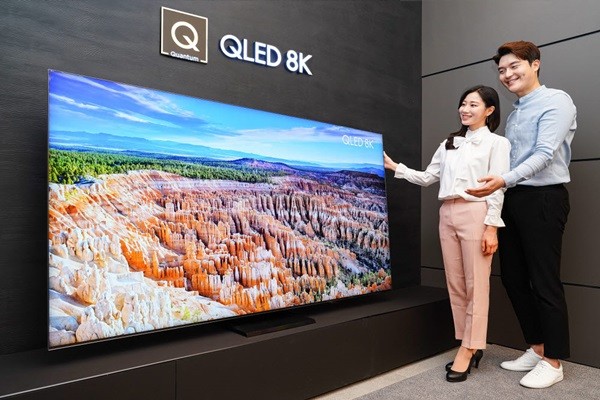 Between 10,000 and 20,000 Mini-LED chips are used per Mini-LED TV. Because Mini-LED TV requires significant increase in production cost and it clearly shows improved quality, it is likely that Samsung Electronics will place Mini-LED TV at the top of its QLED TV lineup.
Commercialization of Mini-LED TV by Samsung Electronics, which is the top TV manufacturer in the world, is expected to serve as opportunities to spread Mini LED technology and vitalize related industries. Apple is also preparing to include Mini-LED backlight LCD for its iPads and MacBooks and it currently receives Mini-LED backlight LCDs from LG Display. Because LG Electronics is also preparing to launch its own Mini-LED TVs, 2021 is expected to be the first year of the commercialization of Mini LED.
Related parts and materials industries are also expected to be vitalized as Samsung and Apple actively use Mini LEDs for their products. While the global LED industry is currently going through a slump due to oversupply from Chinese companies and fierce competitions, it is potentially looking at a rebound due to the spread of Mini LED technology.
"It is important to secure a stable supply network of LED chips in order to make competitive Mini-LED backlight displays." said a South Korean market researcher called Stone Partners. "This is the reason why top display manufacturers such as Samsung Electronics, Apple, TCL, and BOE are pushing for technology partnerships with China-based Sanan and Taiwan-based Epistar that are the top two LED chip makers in the world."
Staff Reporter Yun, Geonil | benyun@etnews.com