A South Korean research institute that specializes in production technology and a small and medium-sized company have developed a system that treats arthritis using a LED light source. This system can be utilized as a healthcare product for an aging society.
Korea Photonics Technology Institute (KOPTI) announced on Monday that a research team led by Sa Gi-dong and An Seon-hee of BioHealth Research Center and a research team from LINKOPTICS, which specializes in optical medical devices, have developed an optics-based wearable care system that is able to control arthritis and alleviate pain.
The system converges KOPTI's flexible structure light source process and core encapsulation technology and LINKOPTICs' wireless pad process and sensor. It is a pad-type system equipped with microLEDs that have 630 and 850 wavelengths that have shown positive effects in alleviating pain from arthritis and suppressing it. It is attached to a joint area and expose the area to light irradiation and it does not cause any discomfort due to its structure that has a battery in a form of thin film built in.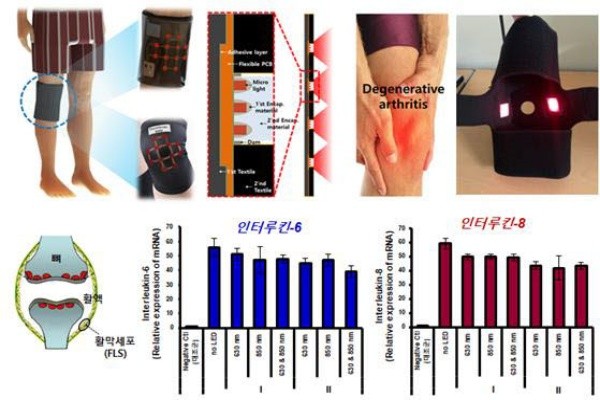 When the research teams caused inflammation in fibroblast-like synoviocytes (FLS), which are key cells in regards to arthritis, through Interlukin 1 beta and exposed cells to 630 and 850 nm LEDs, they saw that about 20% of inflammatory cytokines were suppressed and that there was better suppression when two wavelengths were irradiated at the same time.
They improved a flaw of current products that have the intensity of light source fixed or selected voluntarily. They also solved an issue of low-power ray radiators that were concerned about causing side-effects as they do not consider the difference in light absorption and lowered supply price for consumers as well.
"We believe that this system will contribute to alleviating pain from arthritis safely for aging population and vitalize the arthritis treatment market in South Korea." said Sa Gi-dong who holds a doctor's degree. "We plan to improve the product's reliability through follow-up clinical research and commercialize it early."
Staff Reporter Kim, Hanshik | hskim@etnews.com