It is expected that development of AI technology will greatly speed up a process of saving a life. AI-based technologies that are able to detect accidents through just sense of sight and hearing and respond to disastrous situations are expected to be used in various settings.
CEO Jeon Kwang-myeong of INT-FLOW introduced the company's emergency management system response technology utilizing audiovisual intelligence at an information session for exchanging technologies related to emergency management and a seminar for industry trend that were held at Kintex on Wednesday.
INT-FLOW has developed sound-based tunnel accident detection technology with a support from the Ministry of Land, Infrastructure and Transport (MOLIT). Its technology only detects sounds such as skidding and collision that are related to an accident out of all other sounds such as vibration and echo in the tunnel and noise coming from the car. An emergency detection system that was developed based on this technology is made up of sound collector, sound analyzer, and emergency control system and it recorded a detection time of 0.27 second and an accuracy of 92.5%.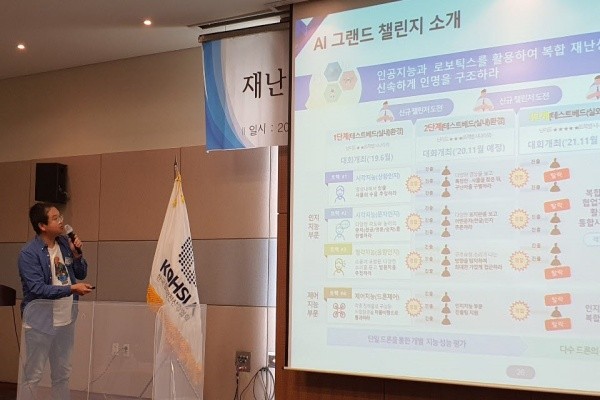 INT-FLOW also developed a technology that is able to recognize accidents in cities or public restrooms through an audiovisual AI analysis technology. If a person who is in a trouble screams, an Edge AI system differentiates unusual sound from normal sound and automatically controls cameras, lights, and speakers that are located in the corresponding area. If an actual accident occurs, the system sends alarms to the CCTV control center and the patrol division of the local government group.
The company also developed other technologies such as privacy protection technology for areas with many semi-basements that is able to look for any stranger who walks around the area for more than 15 seconds and school zone safety accident real-time detection technology and supplied them to local governments.
The company was established in 2019 as a startup based in Gwangju and it analyzes noncontact body signals by utilizing audiovisual AI technology.
CEO Jeon was placed second in the "2019 AI Grand Challenge Track-3" while he was going through a doctoral course at the Gwangju Institute of Science and Technology. The task for the AI Grand Challenge Track-3 was to solve a survival search mission by utilizing auditory intelligence and drones. INT-FLOW performed a project that determined what angle the sound of a person, who is 20 meters away, was coming from.
CEO Jeon said that the development of its audiovisual AI technology will help accelerate a process of saving multiple people's lives at the same time and that the development will provide universal benefit for the people in South Korea.
Staff Reporter Oh, Dain | ohdain@etnews.com