SK Hynix has begun to make necessary preparations to seriously target the global image sensor market that is valued at $17.7 billion (20 trillion KRW). It already established a R&D center in Japan to study image sensor technology and it has begun working on strengthening its competitive edge in image sensor. It also introduced its TOF (Time of Flight) image sensor to the industry for the first time. The global TOF image sensor market is currently monopolized by Sony. SK Hynix is looking to make its name known in the global TOF image sensor market while it expands its image sensor business as part of a plan to strengthen its non-memory business.
SK Hynix introduced its TOF image sensor at "SEDEX (Semiconductor Exhibition) 2020" that began on Tuesday. Its sensor that is made up of 10µm pixels provides QVGA (Quarter Video Graphics Array) resolution. Tuesday was the first time SK Hynix introduced its TOF image sensor to the public for the first time.
TOF is a 3D sensing technology that measures how long the light signal that is emitted to a subject takes to return and is used to understand distance, the object's dimension, and spatial information. Sensor is used to recognize the reflected light signal.
SK Hynix explained that it has developed TOF image sensor due to growing demands for 3D sensing in this era of augmented reality (AR) and virtual reality (VR). Because TOF is useful for 3D modeling and measurement of an object's length, it can materialize AR and VR contents that are more realistic and detailed.
SK Hynix did not disclose the exact release date of its TOF image sensor as it is still going through a development stage.
TOF image sensor is drawing attention from the industry as Apple is actively using the sensor for iPads and iPhones. After using the sensor for the first time for its iPad Pro that was released early this year, it also used the sensor for two models of the iPhone 12 Pro series that was introduced recently. Apple calls TOF image sensor as "LiDAR (Light Detection and Ranging) sensor".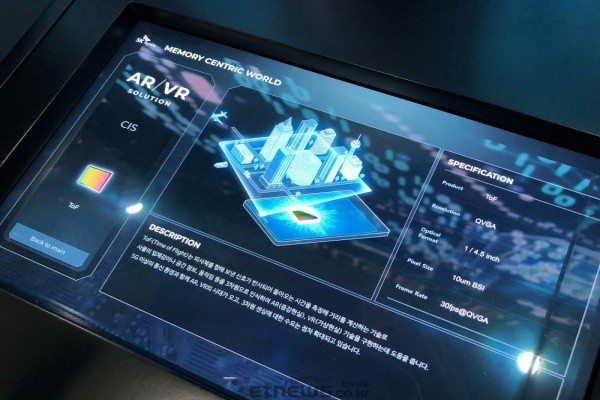 Although Samsung Electronics and LG Electronics attempted to apply TOF technology to their smartphones prior to Apple, they began to underutilize the technology causing a possible exclusion of the technology from the smartphone industry. However, the technology is drawing attention again as Apple, which has a great influence over the industry, is utilizing the technology for its products.
Sony is unrivaled in the global TOF image sensor market. It is reported that it is the sole supplier of TOF image sensors for Apple. Companies such as Infineon and STMicroelectronics entered the global TOF image sensor market. Samsung Electronics is also working on development of the sensor. It is likely that semiconductor companies are knocking on the door of the global TOF sensor market due to a growth of the market that is caused by the multi-camera trend and 5G, autonomous vehicle, and IoT (Internet of Things) and increased demands for 3D sensing.
SK Hynix has decided to develop TOF image sensor as part of its plan to grow its image sensor business. The company opened a R&D center in Japan last year that primarily focuses on image sensor technology. It also reorganized its lineup of image sensors for smartphone cameras this year. It supplied sensors with increased pixel numbers and smaller pixel size to major smartphone manufacturers. It is currently working on sensors with high pixel numbers such as 48MP and 64MP sensors.
SK Hynix is relatively a newcomer to the global image sensor market as it only owns 2% market share. However, it is looking to increase investments in its image sensor business as its sales from non-memory semiconductors including image sensor doubled last year.
According to a market research company called TSR, it is estimated that the value of the global image sensor market will jump from $17.2 billion in 2019 to $27 billion in 2023. SK Hynix is doing everything it can such as converting DRAM production lines to image sensor lines to expand its image sensor business.
Staff Reporter Yun, Geonil | benyun@etnews.com