LG Electronics signed a contract with Electrolux, which is the world's third biggest home appliances manufacturer, allowing Electrolux to use its core technology related to refrigerator.
Signing contracts with multinational home appliances manufacturers such as GE and Miele about letting them use its patented technologies once again proves that its technologies especially when it comes to home appliances are recognized as one of the bests in the world.
LG Electronics announced on Monday that it has allowed Electrolux to use its patented ice-making technology that is incorporated in its French door refrigerators.
Electrolux will pay a certain amount, which is not disclosed to the public, to LG Electronics for using its patented technology.
French door refrigerator is a refrigerator that has a fridge and a freezer at the top and the bottom respectively. It can be inconvenient as consumers have to bend over in order to get ice from the freezer.
Through R&D, LG Electronics has relieved this issue by installing ice-making machine inside the fridge and it developed and patented "main body ice-making technology".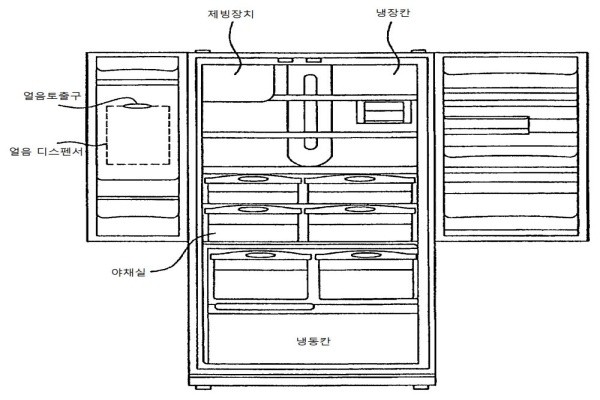 It currently possesses about 700 patents globally related to ice-making technology applied to fridge. This technology is currently applied to French door refrigerators that are sold in South Korea and other countries.
While it is recognized for its home appliances technologies by multinational home appliances manufacturers, it is also expected to speed up management of its patents even more at the same time.
Back in June, it signed a contract with Germany-based Miele and allowed Miele to utilize its technologies related to robot vacuum cleaner in order to manufacture and sell robot vacuum cleaners. In 2019, GE Appliances also signed a licensing contract with LG Electronics regarding using LG's key patented technologies. GE paid a license fee to LG Electronics to use its patented refrigerator door-ice making technology.
Early this year, LG Electronics won a case against an European home appliances manufacturer regarding prohibiting the manufacturer from infringing its patents and stated that it would tighten protection of its intellectual property rights.
It is heard that there are even more cases of foreign home appliances manufacturers signing loyalty contracts with LG Electronics that are not reported to the public.
In addition to selling home appliances, LG Electronics has created a new source of profit through its intangible patents. It can develop selling licenses to its patents to other companies as a B2B (Business to Business) model and create a new engine for its home appliances business.
Jeon Seng-kyu, who is the director of LG Electronics Patent Center, said that the company will actively protect its intellectual property rights that are the driving forces for the company to lead the global home appliances market.
Staff Reporter Park, Sora | srpark@etnews.com