Chairman Lee Kun-hee of Samsung, who was a great start in the financial world in South Korea, passed away at 78 years old on October 25 at Samsung Medical Center. He was hospitalized and had been receiving treatments for six years since he collapsed from a heart attack in May of 2014 while at home. He had been going through rehabilitation at a stable condition since six months into his hospitalization after all of his physical functions including heart function went back to normal. Although it was reported that he was able to breathe on his own until recently, he was not able to wake up on October 25 after living under medical treatment for six years and five months.
He was born in Daegu on January 9 of 1942 as the seventh child of Lee Byung-chul, who was the founder of the Samsung Group, and Park Du-eul. After his father passed away in 1987, he became the second chairman of the group and had led the group. After becoming the chairman, he transformed the group as "the world's Samsung" from "South Korea's Samsung".
The group's revenue jumped from $8.86 billion (10 trillion KRW) in 1987 to $343 billion (387 trillion KRW) in 2018 while operating profit and total market value of listed shares took massive jumps from $177 million (200 billion KRW) to $63.8 billion (72 trillion KRW) and $886 million (1 trillion KRW) to $351 billion (396 trillion KRW) respectively. The group's has one of the world's best semiconductor and smartphone businesses and its TV business is also about to be the world's best TV business for 15 years in a row.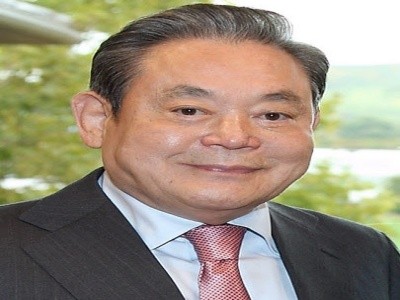 Chairman Lee was especially known for improving the group's makeup through his "New Management" plan that he laid out at a Frankfurt hotel in 1993. His plan basically told everyone in the group to change everything except for their wives and children and it came from a desperate consciousness of crisis that the group was in at the time. The group pushed for extensive innovations throughout the management. Chairman Lee saw "people" as the starting point of innovation and put out a slogan "Change Ourselves First". He also saw humanity, morality, and manners as basic values that every employee and executive of the group needed to have and turned the management's direction from quantity to quality.
Through his New Management plan, the group was able to become a multinational corporation. Samsung Electronics' brand value is worth $62.3 billion this year making it the fifth highest brand value in the world. Samsung Electronics has also become one of top-notch companies in the world as its products from 20 items such as smartphone, TV, and memory semiconductor are seen as the world's best products.
He is also known for his active social contributions and as a diplomat for sports in South Korea. He saw social contributions as a mission given to the group and placed them as a pillar of the group's management. The Samsung Group currently helps the socially weak throughout the world and provides relief money for natural disasters. He was also a member of the International Olympic Committee (IOC) and recognized sports as important catalysts that contribute to international exchange and global peace and had been a top sponsor for Olympics since 1997. In order to have Pyeongchang host the Winter Olympics in 2018, he had done necessary diplomatic activities and he is seen as the biggest contributor to having Pyeongchang selected as the first Asian winter Olympic site during an IOC meeting that was held in Durban, South Africa in 2011.
He leaves his wife Hong Ra-hee who was the former director of the Leeum, Samsung Museum of Art, his son Lee Jae-yong who is the vice chairman of Samsung Electronics, his daughter Lee Boo-jin who is the president of Hotel Shilla, his daughter Lee Seo-hyun who oversees the Samsung Welfare Foundation, and his son-in-law Kim Jae-yeol who is the president of Samsung Economic Research Institute. The Samsung Group stated that a small and private funeral service will be held due to the wills of the deceased and the family of the deceased.
Staff Reporter Kwon, Geonho | wingh1@etnews.com