Intel has been strengthening its position in the global data center market with "Optane Memory". It has been receiving positive feedbacks about Optane Memory when it is used for data centers and there has also been an increase in number of companies choosing to use Optane Memories for their data centers.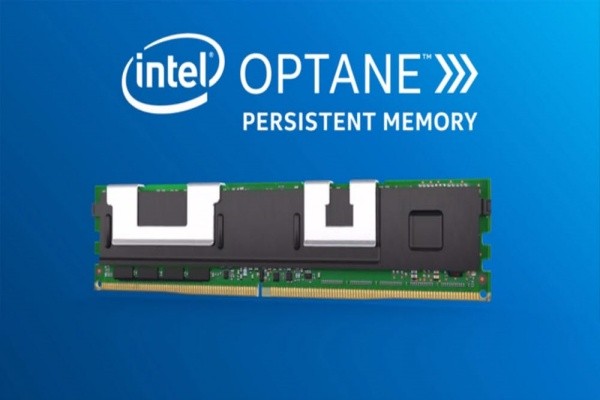 ◊Optane Memory proved to improve performance of servers
Intel launched Optane Persistence Memory for the first time early last year and it has been gradually expanding its influence within the global data center market since. Particularly, servers with Optane Memories have been showing noticeable improvement in performance compared to other servers with existing DRAMs.
First, Optane Memory showed noticeable results during a performance study done by a research group called "Virtual Institute for I/O" that was established for data I/O researchers. 30 servers that combined Optane Persistence Memories and Intel's open source software DAOS (Distributed Asynchronous Object Storage) solution showed the highest I/O performance even than supercomputers and achieved the first place when it comes to file system performance. Intel was able to make a new world record in data I/O by beating out world's top supercomputers and prominent organizations.
Intel's Optane Memory was also awarded in the Disruptive Technology category during a recently held "Best of VM World 2020 Award". The award is given to companies that show innovative technologies in the cloud and high-performance computing markets.
During the competition, Optane Memory received commentaries that it is an interesting memory that is able to easily process huge data. "As performance of data center infrastructures is exceeding limitations, Intel's Optane Memory technology along with VMware workloads are able to perform biggest and more complicated analyses." said Vice President Marketing Lee Caswell of VMware that is a sponsor of the competition.
SAP, which provides various software solutions to companies that operate data centers, also put out results that Optane Memory is able to significantly boost performance of servers and can also help reduce costs as well. It stated that a combination of existing DRAM and Optane Memory is able to double memory capacity compared to just using DRAM when the costs of the two situations are identical.
In addition, it stated that when Oracle's Exadata X8M, which is a database solution for data centers, is used along with Optane Memory and DRAM, it is able to reduce access delay time for data processing by a tenth part and increase amount of data processing by 2.5 times.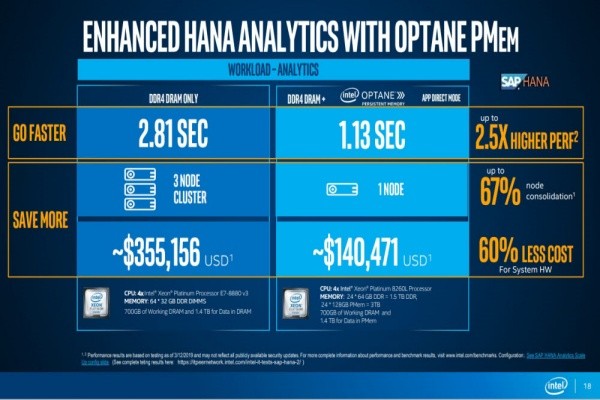 ◊Intel gradually expanding its position in the global data center market
Intel's Optane memories can be divided into "Persistence Memory" that is closer to DRAM and "Optane SSD" that is used as a storage device.
Optane Persistence Memory is made with Intel's "3D XPoint" technology. Although it looks similar to other existing DRAMs, its properties are completely different. It is incorporated with strengths of NAND flash memory and is able to store information even when servers become bigger.
Intel is currently targeting the global data center market with competitive price of Optane Memory. Intel's explanation is that a combination of DRAM and Optane Memory is able to maximize performance of a server.
Optane SSD is a storage device based on QLC (Quad Level Cell) NAND flash and is useful in making up a large flash storage at a low cost.
Actually, there has been an increase in number of companies and research institutions that are using Optane Memories. According to Intel, around 200 companies out of Fortune 500 list are either conducting POC (Proof of Concept) or installing Optane Persistence Memories. 85% of companies that conducted POC purchased Optane Memories.
Intel stated that multinational IT companies and research institutions such as SoftBank, Baidu, and UCSD are currently using Optane Memories.
Staff Reporter Kang, Hyeryung | kang@etnews.com