KT plans to replace every copper wire-based landline telephone network (Public Switched Telephone Network) with optical cable.
For the next five years starting from 2021, it plans to invest anywhere between $436 million (500 billion KRW) and $611 million (700 billion KRW) in order to upgrade its current PSTNs and utilize them as basic infrastructures for innovative services such as 5G and landline-based broadcasting and video conference with superhigh quality.
It is expected that KT's decision will also play an important role in innovating hyper-connected infrastructures on a national level. There is also a need for the South Korean Government to provide necessary support such as regulatory relief in order to accelerate transformation from PSTN to optical cable.
It was confirmed that KT proposed a "PSTN optical infrastructure acceleration plan" to the Ministry of Science and ICT (MSIT).
KT's plan involves establishing a plan for replacing copper wire-based PSTN, which has become an outdated technology, with optical infrastructures and requesting the South Korean Government to ease its obligation to provide excessive universal services related to PSTN that prevent KT from making investments in future technologies.
Replacing PSTNs with optical infrastructures will be divided into two steps. KT will remove outdated switching system (TDX) for copper wire that is connected to landlines of homes and replace it with new switching system based on optical cable.
It is going to set up hybrid gateway equipment and connect optical cable-based home phones and high-speed internet-based IPTV to the gateway equipment so that every service can be made possible.
Then, it will try to replace copper wires with optical cables as much as possible between 2024 and 2025. Although it needs to consider its financial situation, it is estimated that it will need somewhere between $436 million and $611 million considering the numbers of its current equipment.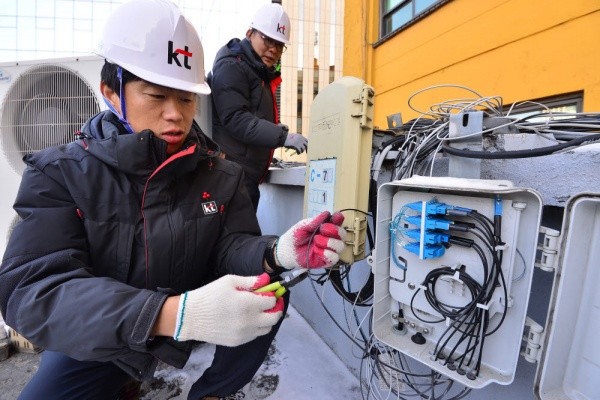 One reason why KT plans to replace every copper wire with optical cable is because it has become difficult for PSTN switching system to develop any further. It is similar to how South Korean telecommunications companies "shut down" their 2G services. There are currently 14 million people who use PSTNs and there are about 200,000 households that only use PSTNs and not cellphones.
In a long term, KT's goal is to improve qualities of landline telephones and create values through innovative services such as high-quality voice call. It plans to set up optical cables even in corners of farming and fishing villages and make contributions towards the government's plan to innovate digital infrastructures.
KT made a request to the MSIT about improving the system based on "equal service, equal regulation" principle by saying that PSTN-related regulations that were designated as universal services 20 years ago are going to be obstacles towards its plan.
KT, a local call universal service provider, needs to provide PSTN if its user requests it in order to guarantee the public's basic right to communication. As a result, KT needs to provide PSTN universal services in 143 areas which causes the company to lose anywhere between $523 million (600 billion KRW) and $611 million (700 billion KRW) every year and it stated that such obligation prevents it from making investments in infrastructures.
KT made a request to the MSIT about allowing it to provide universal service through VoIP (Voice over Internet Protocol) that is connected to optical cable network while maintaining its obligation to provide universal service for landline calls.
Optical infrastructure is a national hyper-connected infrastructure that is equally as important as 5G. Although it will be difficult for the government to accept every request made by KT, it is obvious that the government needs to reexamine appropriateness of regulations related to PSTN universal service that prevent innovation infrastructures.
A spokesperson for KT said that the company hopes that its decision will trigger social discussions about development of PSTN and the direction of policies related to universal service.
Staff Reporter Park, Jisung | jisung@etnews.com