Hyundai Motor Company is set to become the first multinational automotive manufacturer to establish a "customized flexible manufacturing system", which will begin vehicle production once orders are received, in Singapore.
Its goal is to suggest a new production paradigm by utilizing advanced technologies such as artificial intelligence (AI), robots, and big data in addition to automation.
Hyundai Motor Group along with Hyundai Kia Namyang R&D Center held a groundbreaking ceremony for HMGICS (Hyundai Motor Group Innovation Center) at a townhall in Jurong on Tuesday.
Considering the current situation of "COVID-19", the groundbreaking ceremony held online by connecting event halls from South Korea and Singapore virtually. This event is the first case in the world where two countries participated in a virtual event that was held in real time.
From the Singapore side, Prime Minister Lee Hsien Loong of Singapore, Ahn Young-jip who is the ambassador of the Republic of Korea to Singapore, and Chairman Beh Swan Gin of the Economic Development Board attended the virtual event. From the South Korea side, Minister Seong Yoon-mo of the Ministry of Trade, Industry and Energy, Eric Teo who is the ambassador of Singapore to the Republic of Korea, and Executive Vice Chairman Chung Eui-sun of Hyundai Motor Group attended the virtual event.
"The HMGICS is the first of its kind in the global automotive industry and it is a very meaningful leap by Hyundai Motor Group." said Prime Minister Lee. "The HMGICS will lead to more South Korean companies investing in Singapore and open up a door for different collaborations between South Korean companies and companies and education and research institutes from Singapore." He also added that the Singaporean Government will look to replace every car in Singapore with eco-friendly car by 2040 according to the Paris Agreement and that it will look for new growth engines for the economy and create new jobs through the HMGICS."
The HMGICS is an open innovation lab that will study the entire value chain of life cycle stages of customers' cars from ordering to production, test-drive, and delivery and service in order for Hyundai Motor Group to present new mobility paradigms. It is expected that the lab will focus on manufacturing electric motored vehicles that require less parts than vehicles that run on internal combustion engine.
The lab is expected to be completed by the end of 2022 and it will be constructed on a 44,000m2 land within Jurong Innovation District and have a total floor area of 90,000m2 and seven floors. 620 meters of "sky track" that will allow customers to test drive cars even at a high speed, takeoff and landing area for urban air mobility (UAM), and solar panels to create eco-friendly energy will be built on the roof of the HMGICS. Hyundai Motor Group plans to gradually increase amount of clean energy used in the HMGICS through hydrogen fuel cells and others.
The inside of the lab will be made up of various facilities for customers to experience advanced technologies, work spaces for research and development (R&D) and office work, and small manufacturing equipment. The outside will be applied with transparent glasses so that people can look at vehicles on display making the HMGICS become one of major landmarks in Singapore.
Hyundai Motor Group's customers will be able to select specs that they desire online which will then prompt the HMGICS to manufacture cars immediately according to customers' demands.
Customers will be able to watch the whole manufacturing process of their cars from an area that is prepared for such viewing and test drive their cars on the sky track once their cars are transferred to the track after the manufacturing process.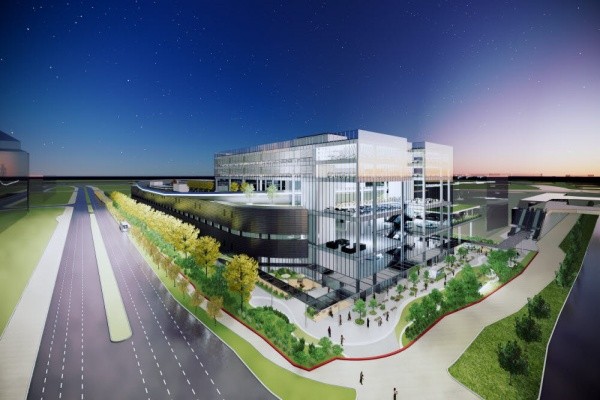 Hyundai Motor Group plans to establish a pilot flexible manufacturing system for electric vehicles within the HMGICS in order to develop and test innovative manufacturing platforms. Its plan is to utilize the lab as a testbed to demonstrate intelligent manufacturing platforms applied with advanced technologies such as AI, internet of things (IoT), and robotics.
"We plan to introduce a flexible manufacturing system that can be flexible towards changes and demands." said a spokesperson for Hyundai Motor Company. "The HMGICS will be a safe environment where distribution and assembly systems are automated and difficult and dangerous jobs are performed by robots."
In addition, Hyundai Motor Group will look for and test new mobility businesses that will realize a sustainable society. It will also look for ways to improve convenience in use and reduce financial burden for customers in purchasing electric vehicles by testing "BaaS (Battery as a Service)", which is a service that prolongs life cycles of batteries.
"Based on "person-centered value chain innovation for transformation in mobility paradigm", which is the vision of HMGICS, Hyundai Motor Group will continue to work on improving quality of our customers' lives." said Executive Vice Chairman Chung Eui-sun. "We are confident that innovations materialized by the HMGICS will change the future and contribute to better humanity."
Hyundai Motor Group plans to operate a joint research institute with the Nanyang Technological University, Singapore (NTU) through the HMGICS and review precedent studies of specific projects related to smart city that the Singaporean Government is pushing for.
Meanwhile, Singapore is the hub for South-East Asia when it comes to distribution, finance, and business and is highly interested in new services, technologies, and trends. Because it is open to foreign cultures and socially embraces ITs, it is seen as the best testbed for new technologies within the South-East Asian market. Many multinational companies view and utilize Singapore as the headquarters for their businesses in South-East Asia or the Asia-Pacific region in order to enter the South-East Asian market. In case of a car sharing company Grab that has its headquarters in Singapore, it has grown at a very rapid pace by expanding its services such as finance, food delivery, package delivery, contents, and digital payment in South-East Asia.
Hyundai Motor Group expects that it will be able to improve its brand and level of awareness in South-East Asia by constructing the HGMICS in Singapore.
Staff Reporter Park, Taejoon | gaius@etnews.com