42air, which is an American subsidiary of a South Korean startup 42dot that specializes in autonomous Transport as a Service (aTaaS), has entered the global marine drone delivery service market for ship. Based on its drone delivery system, it is going to launch a marine drone delivery service while working with the biggest marine logistics service provider in North America.
According to the industry on Monday, 42air is planning to start its drone delivery service in areas near the Mississippi River along with Norton Lilly International.
42air made a partnership with North Lilly International regarding its drone delivery service and has begun testing its marine drone delivery service near the Mississippi River that is one of important logistical hubs in the U.S.
42air is an American subsidiary of 42dot that received an investment from Hyundai Motor Group and provides a drone-based delivery service. It is currently researching into technologies that enable drones to delivery packages and documents to moving objects.
It was able to successfully deliver donuts to crewmen on a ship of a Japanese shipping company NYK Line near the Port of Oakland using a drone recently.
Although Amazon and Alphabet are starting to use drones to delivery their packages, it is heard that 42air is the first company to launch a service that targets particular users and objects such as ship.
Marine delivery using drones can drastically reduce transportation cost and time of a package between two ship. It is much cheaper than delivery services that use boats or helicopters. Another advantage of drone delivery service is that it is able to respond to on-demand calls.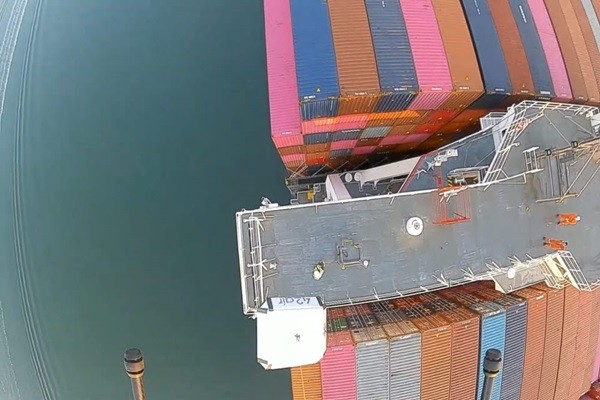 42air is currently conducting tests by estimating optimal trajectories. Its drones are able to find destinations and return places by utilizing accurate location awareness technology and air current prediction and 3D drone maps. Packages that need to be delivered are dropped with long lines that are attached to drones. While the maximum weight of a package that its drone can carry is 10 pounds, 42air plans to gradually increase the maximum weight.
The company is also expected to apply for an approval from the Federal Aviation Administration (FAA) for its drone delivery service. It will not be much difficult for it to obtain an approval as FAA already approved applications from Amazon, Alphabet, and UPS regarding operations of their drones.
Based on its algorithm for marine drone delivery, it plans to expand a mixed transportation network made up of urban logistics, aviation logistics and others through a city-type mobility comprehensive platform called "UMOS". It is looking to launch its service in South Korea as well through 42dot after verifying business value of its marine drone delivery service in the U.S. where it is relatively easy and fast to prepare a base for drone-based business.
42dot plans to introduce "UMOS" by the end of this year at the earliest. This platform will cover every futuristic transportation method such as autonomous driving, drone, and delivery robot. UMOS users will be able to call and share delivery vehicles and use smart logistics and e-commerce services.
"Our partnership with North Lilly International is expected to play an important role in the marine drone delivery market within the U.S." said Hank who is the CEO of 42air. "We are planning to develop autonomous driving algorithms for marine delivery in detail and link them to multi-model and other delivery mobilities within the UMOS platform."
"Our work with 42air will be a quick and effective alternative for current methods that deliver small packages to ship that is anchored." said CEO Andreas Ebensperger of Norton Lilly International. "Marine drone delivery service will be extremely helpful in reducing marine pollution."
Staff Reporter Park, Jinhyung | jin@etnews.com