Although it has been more than two years since 10Gbps fiber internet service was introduced in South Korea, it is shown that there are only 183 households that use such service. Although 10Gbps internet service that is able to download a UHD movie in just 30 seconds was expected to be a catalyst along with the 5G mobile network for the Fourth Industrial Revolution, it has not been used by many consumers due to its expensive price. Many pointed out that the South Korean Government and South Korea's telecommunication companies need to make efforts to popularize 10Gbps fiber internet services in order to deal with online services that cause a huge amount of traffic and the spread of remote education due to COVID-19.
According to data that Byun Jae-il, who is a member of the Democratic Party, received from the Ministry of Science and ICT (MSIT), there were only 156 households and 27 households that had used 10Gbps internet services of KT and SK Broadband respectively between 2018 and the second quarter of 2020. The South Korean Government defined 10Gbps internet as "internet services that download speed of at least 2.5Gbps" and announced that there were 16,005 households that were using 10Gbps internet services at the end of the second quarter. 10Gbps internet services can be divided into 2.5Gbps, 5Gbps, and 10Gbps depending on their internet speeds, not even 0.1% of 16,005 households were using just 10Gbps internet services at the end of the second quarter. Even with 5Gbps internet services, only 145 households and 23 households were using them from KT and SK Broadband respectively. 8,416 households and 7,238 households were using 2.5Gbps internet services of KT and SK Broadband respectively.
10Gbps internet is seen as the "main artery" of the Fourth Industrial Revolution as it is the basis of the 5G mobile network and Wi-Fi 6 (802.11ax). It is seen as an infrastructure that is absolutely needed for increased traffic from various hyper-connected services such as UHD broadcasting, hologram, and big data and artificial intelligence (AI). By the end of July, the number of 5G subscribers surpassed 7.85 million people while the amount of traffic from 5G was 144,000 TB by the end of April. 10Gbps internet needs to be developed at the same time in order to receive smooth 5G services.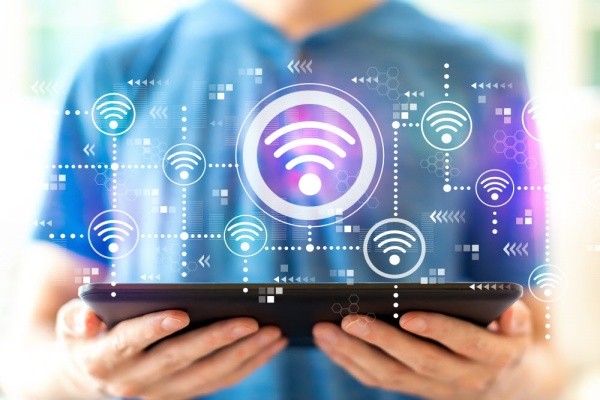 Since 2018, the MSIT has been working to promote 10Gbps internet services. The South Korean Government and a consortium of South Korean telecommunication companies invested $6.46 million (7.585 billion KRW) and $12.6 million (14.759 billion KRW) for the past three years. Despite the investments, the number of 10Gbps internet services subscribers has been lower than that of Giga internet services subscribers due to expensive prices and lack of contents. Telecommunication companies have been hesitant on investing more into their 10Gbps internet services as they are already pouring large amounts of investments in 5G.
Average monthly prices of 10Gbps internet services are $37 (44,000 KRW), $49 (57,750 KRW), and $73 (85,250 KRW) for 2.5Gbps, 5Gbps, and 10Gbps respectively excluding equipment rental and based on a three-year contract. Some say that in order for South Korea to become a leader in 10Gbps internet just like how it is a leader in the global 5G market, the current prices of 10Gbps internet services need to be lowered to a level of Giga internet services by localizing equipment and vitalizing competitions. The average price of 10Gbps internet services in Japan has been lowered to $60 (6,338 yen) due to competitions between Japanese telecommunication companies.
While 10Gbps internet services have been limited to stock traders and gamers, it is expected that their demands will grow due to the Fourth Industrial Revolution and COVID-19. The amount of data use has been growing due to uses of 8K IPTV services and augmented reality (AR) smart board that require large amounts of traffic. Online services and online education services also cause an increase in data traffic.
Although the MSIT announced its plan to increase the coverage of 10Gbps internet services to 50% by 2022, the coverage in 85 cities at the end of 2019 was only 8.04%. Daegu, Daejeon, and Seoul have the three highest coverages with 23.65%, 20.19%, and 14.11% respectively. Coverages of the rest of 82 cities are all single digits. Gangwon, Jeonnam, and Jeonbuk had the lowest coverages that were in a 1% range.
"Other countries already commercialized 10Gbps internet services three to four years ago and saw related industries such as Wi-Fi equipment and residential gateway grow together. However, South Korea has fallen back in a race while concentrating only on 5G." said Byun. "There is a chance that our country may lose its title for having the world's best internet services if it is only content with the current Giga internet services." He also emphasized that wired and wireless infrastructures of 10Gbps internet need to be developed together along with 10Gbps internet services and that the MSIT along with the three main telecommunications companies need to consider different ways such as increased investments in facilities and equipment and development of contents exclusively for 10Gbps internet service in order to popularize 10Gbps internet services in South Korea.
Staff Reporter Song, Hyeyoung | hybrid@etnews.com & Staff Reporter Park, Jisung | jisung@etnews.com