Major South Korean corporations such as GS and POSCO are set to be part of a distribution business of Chinese electric commercial vehicles (trucks and buses) in South Korea.
Because the Chinese Government has practically removed electric vehicles with South Korean batteries from its list of electric vehicles that receive a government subsidy, GS and POSCO are getting not so kind looks from South Korean industries for importing Chinese electric commercial vehicles.
Electric trucks (at least 1 ton) and electric buses receive a government subsidy from anywhere between tens of thousands dollars to $257,000 (300 million KRW).
According to the industry on Thursday, GS Global that signed a contract with China-based BYD early this year to be BYD's exclusive distributor of its electric commercial vehicles has begun carrying out necessary tasks to start selling BYE's electric commercial vehicles in South Korea
GS Global is already set to supply at least six electric buses for the Seoul Metropolitan Government in the second half after going through pre-sales activities. Once the supply contract between GS Global and the Seoul Metropolitan Government is finalized, it will be the first time when BYD's electric buses will be introduced to bus routes in South Korea and the electric buses will be the first electric buses in South Korea equipped with LFP (Lithium ion phosphate) batteries made from China.
POSCO International also signed agreements with GEELY Commercial Group and CURO, which has a car sales network in South Korea, at the end of last year and is getting ready to sell GEELY's electric truck "e200" first. POSCO International has been taking a cautious approach while indicating that it is considering using South Korean batteries for GEELY's electric trucks and selling GEELY's electric trucks overseas as well.
Although distribution of Chinese electric commercial vehicles in South Korea is not much of an issue, GS Global and POSCO International are getting not so kind looks for jumping into a market that depends on government subsidy when they are considered as major companies. Although the Chinese Government recently lifted part of its restriction on South Korean batteries, it has still been five years since electric vehicles with South Korean batteries started receiving reverse discrimination from the Chinese Government.
"South Korea's electric commercial vehicle market, which is mostly led by small and medium businesses, will collapse if three to four major companies excluding Hyundai Motor Company and Zyle Daewoo Commercial Vehicle import Chinese electric vehicles and supply them in South Korea." said a president of a South Korean commercial vehicle manufacturer.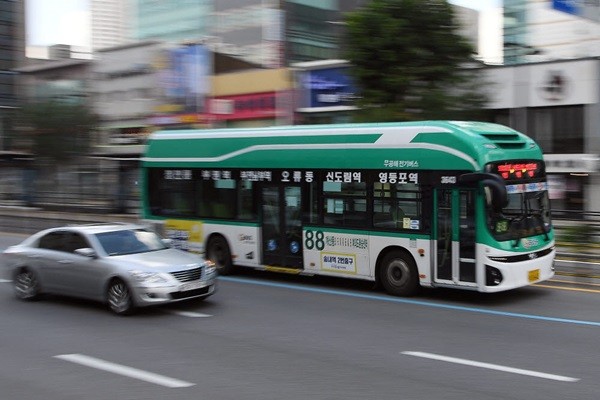 There are currently 44 brands of electric buses sold in South Korea that are qualified to receive a government subsidy. Out of these 44 brands, 29 of them are Chinese brands that include BYD, Foton, and Beijing Automotive Group while only 15 of them are South Korean brands that include Hyundai Motor Company, Edison Motors, Woojin Industrial System, and Zyle Daewoo Commercial Vehicle. For the past three years, the South Korean Government provided $68.4 million (80 billion KRW) in government subsidy for electric buses.
Sales of electric buses and electric trucks jumped by more than 100% this year as the South Korean Government provides the most government subsidy for electric buses and electric trucks compared to any other government.
Electric trucks receive anywhere between $20,500 (24 million KRW) and $22,200 (26 million KRW) while electric buses receive anywhere between $171,000 (200 million KRW) and $257,000 (300 million KRW) from government subsidies and subsidies from local government groups. Out of this amount, between $21.4 million (25 million KRW) and $25.7 million (30 million KRW) went to Chinese electric buses.
"We are not just simply selling Chinese electric vehicles in South Korea, but we made a partnership with GEELY in order to equip GEELY's electric commercial vehicles with South Korean battery systems while working a small and medium business like CURO and export such commercial vehicles overseas eventually." said a spokesperson for POSCO International. "Our case of importing Chinese vehicles is different other cases."
On the other hand, according to the Ministry of Industry and Information Technology of the Chinese Government, only Tesla's "Model 3 (LG Chem)", Beijing Motor's ArcFox and Mark 5 (SK Innovation, and Chongqing Sokon Industry Group's "Seres SF5 (Samsung SDI)" are the only electric vehicles equipped with South Korean batteries that receive a government subsidy from the Chinese Government at the moment.
Staff Reporter Park, Taejoon | gaius@etnews.com