Linkage between QR code payments of Zero Pay and WeChat Pay is finally going to take place next month. The first linked payment service will be introduced in Hongdae Street, Myeongdong, and Shinchon that are selected as testbeds. With the linked payment service between the two mobile payments, it will be possible for Chinese tourists to use Tencent's WeChat Pay, which is the most popular mobile payment in China, at Zero Pay affiliates in the regions. There are currently over 13,000 stores that support Zero Pay in these regions.
According to the industry on Thursday, the Ministry of SMEs and Startups (MSS), the Seoul Metropolitan Government, and the Korea Simple Payment Promotion Agency have completed the combination of Zero Pay and WeChat Pay QR standards. Pilot operation will take place at the three locations starting from next month. Prior to the combination of the QR standards, the agency selected Kiss Information and Communication as the preferred negotiator for a QR linkage process between South Korea and China.
South Korean authorities are planning to expand the payments linkage nationwide in November.
The linkage between the two QR standards is meaningful from a standpoint that Tencent first adopted the South Korean QR system. The Seoul Metropolitan Government and Tencent will sign a memorandum of understanding (next month) on October 29 related to this project. WeChat currently uses its own QR standard and is not compatible with any other QR system. This is the first time WeChat Pay has accepted a QR standard, and it is a Korean QR standard.
There are currently 13,000 merchants that are able to support the integrated QR code payments.
It is heard that relevant authorities will set payment fees in the early 1% range in order to reduce any financial burden for small merchants. Current payment fees for merchants that support WeChat Pay are around 2.1% while smaller merchants have to pay up to 3%. The fee for merchants that are able to support the two QR code payments has been cut by half.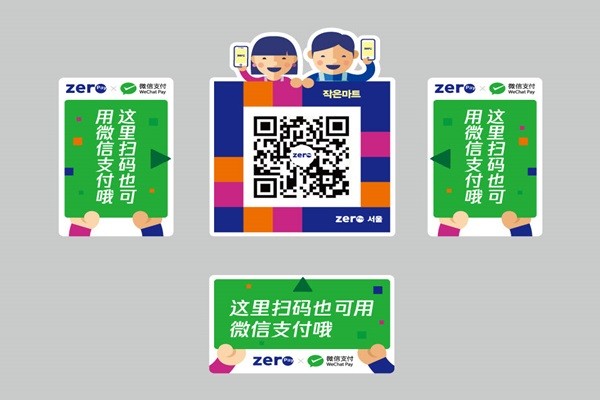 It is reported that the integrated QR code payment system will also be applied to the Jeju Island in November led by the MSS.
"Because Chinese QR code payments such as WeChat Pay and Alipay have closed structures, they are not compatible with other QR standard." said a spokesperson for the Korea Simple Payment Promotion Agency. "With this linkage however, Chinese tourists in South Korea and South Korean tourists in China will be able to conveniently use both QR code payments from both countries."
Cross-border e-commerce between South Korea and China will be implemented officially from November. Starting from 2021, the South Korean Government will look into linking Zero Pay to QR code payments used in South-East Asia and expand the Zero Pay platform globally rather than limiting it to South Korea.
There is a great chance that Zero Pay will emerge as a new payment method for consumers in South Korea post COVID-19.
"Once cross-border e-commerce between South Korea and China is implemented, we expect that there will be more spending through Zero Pay." said a spokesperson for the agency. "We are going to continue to work on versatility and convenience of the Zero Pay platform so that both consumers and merchants are satisfied with the platform."
Along with this, the South Korean Government will look to have Zero Pay used as an online payment method.
Naver Financial, NHN Payco, Galaxia Communications, Kucon, Korea Information and Communications, Lotte Members, eBay Korea, 11st Street, and Finnq have joined as payment providers. It is expected that KT, EB Card, Tmonet, and Kakao Pay will participate in an online Zero Pay business in the second half.
Staff Reporter Gil, Jaesik | osolgil@etnews.com