South Korea's nano convergence and material convergence industries are showing significant influence on the material, component and equipment industries in South Korea. They are also expected to make great contributions towards the "Korean New Deal" that the South Korean Government is pushing for. It will be interesting to see whether South Korean nanotechnology companies that are making their names known through unique technologies will be able to gain even greater competitive edge after the COVID-19 pandemic.
According to industries on Wednesday, companies that have been receiving financial supports from the "Nano-Convergence 2020 Project" that the Ministry of Trade, Industry and Energy (MOTIE) and the Ministry of Science and ICT (MSIT) are pursuing are showing rapid growths.
Between 2012 and 2020, the project have conducted a total of 93 projects. It has received $123 million (143.7 billion KRW) from the South Korean Government and had 117 companies, 47 universities, and 56 laboratories participating. Companies that have participated in the projects have raised $912 million (1.0684 trillion KRW) in revenues after commercializing technologies that they have developed through government supports. The amount of revenues indicates that the project has raised 10 times more revenue compared to the total amount of the government's budget.
Out of 79 companies that have raised revenues, 39 of them are continuing to make revenues and they have developed into successful companies that applied for 408 patents and created jobs for 726 people. Through Nano-Convergence projects, they were also able to reduce necessary time for commercialization from an average of 4.8 years to 2.5 years.
Companies that have made progress through Nano-Convergence projects are also expected to have positive impacts on the "Korean New Deal" as well.
The "Korean New Deal" is a national project that the government prepared in July in order to recover the nation's economy from COVID-19. The goal of the project, which is made up of Digital New Deal, Green New Deal, and a strengthening of the social safety net, is to look to create jobs and investments.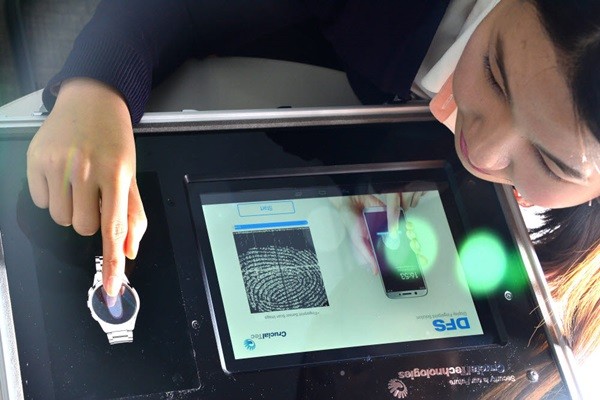 Nano-Convergence Foundation analyzed that 18 new products based on nanotechnology have deep relationships with the Korean New Deal.
For example, CrucialTec that participated in the Nano-Convergence 2020 Project has a deep relationship with the Digital New Deal. After participating in the project in 2015, it developed under-display fingerprint recognition module and it has raised $47.1 million (55.2 billion KRW) in revenue and applied for 27 patents since.
Il Kwang Metal is a company that fits perfectly for the Green New Deal. Based on its nanotechnologies, it developed a fuel cell frame technology that can contribute to supplies of hydrogen fueled cars.
Selcos has created a safe and eco-friendly working environment by developing eco-friendly metal cutting machines based on nanomaterials.
"By converting wet plating process that uses many harmful chemicals into dry coating process based on nanotechnology, we have raised $14.5 million (17 billion KRW) in revenue." said a spokesperson for Selcos. "By establishing an eco-friendly and safe business environment, we are going to contribute to strengthening the competitive edge the country's manufacturing industry."
Park Jong-gu, who is the head of Nano-Convergence Foundation, told the electronic Times that 18 products related to the Korean New Deal have raised $376 million (440 billion KRW) in revenues and that their values have increased by 17 times as $21.3 million (25 billion KRW) were invested into the development of the 18 products.
"These 18 products have created bigger markets than our initial expectations and are making huge socio-economic impacts." said Park. "We expect that they will make huge contributions towards materializing and carrying out comprehensive plans of the Korean New Deal."
Staff Reporter Kang, Hyeryung | kang@etnews.com