Korea Electric Power Corporation (KEPCO) recently established an "offshore wind power enterprise organization" under its vice president after amendments to a relevant law that allow KEPCO to carry out new and renewable energy generation business were issued. The establishment indicates that KEPCO will officially launch its own offshore wind power generation business. It is expected that KEPCO with assets that are worth more than $169 billion (200 trillion KRW) will play a role of priming water for South Korea's offshore wind power market.
According to the industry, KEPCO recently established an offshore wind power enterprise organization under its vice president. It is currently working on assigning manpower to the organization and it is looking to finish organizing the organization shortly.
It is rare to see KEPCO establishing a task force (TF) under its vice president.
"Including the recently established organization, there are only two enterprise organizations that are under the direct leadership of the president and vice president." said a spokesperson for KEPCO. "This shows how much interest is there on offshore wind power by the management."
The organization was established after amendments to the Electric Utility Act were issued. The amendments have eliminated any barrier so that KEPCO can manage new and renewable energy generation business and they also speed up distribution of new and renewable energy in South Korea according to South Korean President Moon Jae-in's Green New Deal. They were issued by Song Gab-seok, who is a member of the Democratic Party of Korea, in August and there is a high chance that they will be passed by the National Assembly at the moment.
The reason why KEPCO established the organization is to create new sources for profit through new and renewable energy. Under the energy conversion policies that are being pushed by the government, there will be limitations to its performance with just transmission and distribution and sale of power.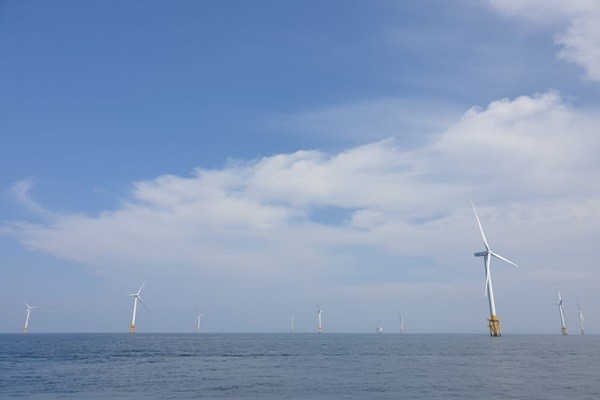 It is expected that the offshore wind power market in South Korea will grow continuously. The Ministry of Trade, Industry and Energy ignited a growth of the market by announcing a large-scale offshore wind power farm development project. It is going to provide financial support to regional governments and local governments that have plans to develop GW-level offshore wind power generation farms.
It is expected that KEPCO will play a major role in creating the market in South Korea. Because the market is still in its infant stage, it requires large investment. For example, $296 million (350 billion KRW) has been invested in creating 60 MW-level offshore wind power generation farm near Wido-myeon in Jeonbuk. 400 MW and 2,000 MW offshore wind power generation farms will also be created in the future that will require $2.03 billion (2.4 trillion KRW) and $8.46 billion (10 trillion KRW) in investments alone.
KEPCO has the ability to obtain a large capital. Its assets were worth around $169 billion by the end of the first half. Because it monopolizes power infrastructures in South Korea, it can contribute to accelerating supply of offshore wind power generated.
Another spokesperson for KEPCO told the Electronic Times that new and renewable generation business will help KEPCO improve its financial situation and potentially ease factors that increase electricity rates.
There is a good chance that KEPCO will carry out offshore wind power generation business through equity participation. It already made joint investments with six other utility companies such as Korea Hydro & Nuclear Power to establish and operate a special purpose company called Korea Offshore Wind Power. It is expected that KEPCO will look to expand its offshore wind power generation business on its own in the future.
Private utility companies are concerned about the move by KEPCO as they cannot match KEPCO's huge investments. It is shown that they are no match against KEPCO in capital strength when bidding for land development or competing for business rights.
Staff Reporter Ryu, Taewoong | bigheroryu@etnews.com