MagnaChip foundry business, which was acquired by SK Hynix in March through a special purpose company (SPC), will change its name to "Key Foundry" and continue its business. Key Foundry appointed a new CEO and is rapidly going through business reorganization. Key Foundry is also expected to work with SK hynix system ic that is a subsidiary spun off from SK Hynix.
According to the industry on Monday, MagnaChip foundry business renamed its company to "Key Foundry" and appointed Lee Tae-jong as the new CEO. CEO Lee entered MagnaChip Semiconductor in 2007 and had led MagnaChip foundry business as a vice president.
It is heard that CEO Lee was deeply involved in constructing production lines for power management integrated circuit (PMIC) and complementary metal oxide semiconductor (CMOS) image sensor based on 0.18 and 0.13 µm that are the company's core businesses. Although he stepped down from MagnaChip Semiconductor's management in January last year, he is now the CEO of Key Foundry.
The industry put out various predictions regarding the CEO position.
The fact that CEO Lee can apply his business network and knowledge that are widely recognized and has positive reputations within the industry is seen as a major reason why he was appointed as the CEO of Key Foundry.
It is heard that Key Foundry is operating its production line located at its headquarters in Cheongju on full-scale and is running a task force that is finishing up the acquisition process. Once it is finished with buyouts and business reorganization, it will be completely separated from Magnachip Semiconductor by the end of this year at the earliest.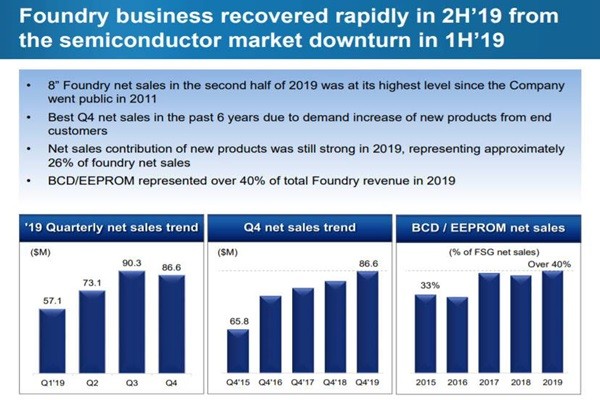 Key Foundry became a topic when SK Hynix acquired it from Magna Semiconductor in March. SK Hynix invested 49.8% of Magnus private equity firm (PEF). The selling price was $435 million. After selling Key Foundry to MagnaChip Semiconductor in 2004 in order to overcome a financial difficulty, it acquired Key Foundry once again in order to secure production lines and technologies in 8-inch wafer foundry.
It is heard that Key Foundry is responsible for manufacturing products from foreign fabless companies based in the U.S. and Taiwan. It is understood that it is even experiencing a short supply due to increased demands of 8-inch wafers from China especially. The company is showing a growth as its sales from the fourth quarter last year increased by 30% compared to its sales from the fourth quarter of 2015.
"Although amount of orders for Key Foundry slowed down a bit earlier this year due to the COVID-19 pandemic, it is heard that its business has become better due to increased orders from Chinese customers recently." said a representative for the industry.
The industry is interested in what kind of synergy will SK Hynix and Key Foundry create. There are various predictions on what kind of collaboration will be created between Key Foundry and SK hynix system ic that is moving 8-inch equipment to its Wuxi plant especially.
"While there are veteran engineers within Key Foundry that started its business in 1989, SK hynix system ic that started its foundry business in 2010 does not have many technologies accumulated." said a representative for the industry. "There is a high chance that SK hynix system ic will actively utilize engineers from Key Foundry internally in order to expand its foundry business."
Staff Reporter Kang, Hyeryung | kang@etnews.com