Apple obtained an approval from the Ministry of Food and Drug Safety (MFDS) regarding its electrocardiodiagram (ECG) application. As regulations related to medical devices have begun to be eased in South Korea, it is expected that relevant companies will officially compete against one another in order to gain dominance in the "healthcare" market based on smartwatch.
Apple's "irregular heartbeat alarm feature" measures and analyzes one's pulse through photoplethysmography (PPG) sensor that is installed in Apple Watch. It looks for a sign of irregular heartbeat that is suspected of atrial fibrillation and alerts users.
One is able to perform ECG by placing his or her finger on digital crown that is located on the side of Apple Watch and he or she is able to receive alerts whenever PPG sensor detects irregular heartbeat or fast or slow heart rate.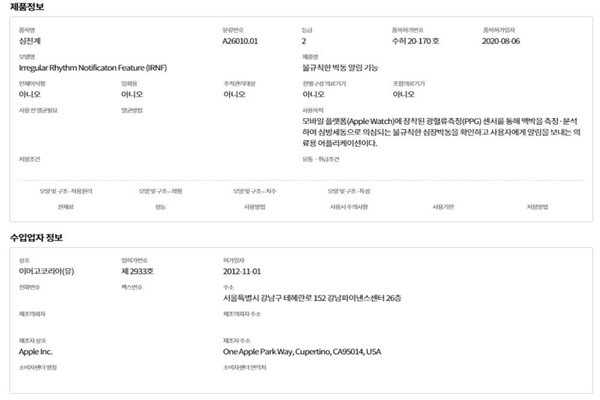 Apple already obtained an approval from the U.S. Food and Drug Administration (FDA) regarding the application and included the application for the first time to the Apple Watch Series 4 that was launched in September of 2018. Since then, there have ben many cases of people from North America and Europe finding signs of heart problems early and saving their lives through the ECG application.
It is expected that Apple Watch's ECG application will also be widely used in South Korea as Apple obtained an approval from the MFDS. Apple will be able to provide the service after a simple update to the application since it already completed every prerequisite including adding a Korean version to the application.
Samsung Electronics also introduced its smartwatch healthcare-related features such as ECG measurement and blood pressure measurement when it launched Galaxy Watch 3 on August 6. These features are also available on the Galaxy Watch Active 2 that was launched last year through an update.
Staff Reporter Park, Jungeun | jepark@etnews.com & Staff Reporter Jung, Hyeonjung | iam@etnews.com