For the next five years starting from next year, the South Korean Government is going to invest $169 million (200 billion KRW) in building industrial foundations such as technology development, international standard, and research for 6G. Its goal is to preoccupy the world's best technologies in a next-generation mobile network as well as international standards and patents. It also plans to maintain a global level of competitive edge in smartphone and base station equipment.
In order to secure key fundamental technologies before international standards related to 6G are established, the government will focus its investments in ten different projects from six different fields.
The government is going to focus on overcoming existing limitations of 5G. 5G has reduced latency of 1ms only for wireless LAN. However, the reduction in latency (ms in double digit) in end-to-end network including wired LAN is insignificant. There are limitations to generalize superhigh speed convergent services such as autonomous driving and realistic augmented reality (AR) and virtual reality (VR) for many people with the current transmission speed of 5G at 20Gbps. Artificial intelligence (AI) can only be applied partially for network resource management ability (core network). Also, because 5G can only provide coverage for devices that are up 120 meters in height at the maximum, it cannot be used for flying objects such as drone and flying car that will make their appearances in the future.
The government believes that there will be too much burden on private investments in order to carry out R&D on technologies that will overcome existing limitations of 5G from aspects of time and chance of success and it will carry out six key areas such as superhigh speed (Tbps level) and superlow latency (minimum 5ms) that are based on AI technology and ten strategic projects.
These six key areas are super performance, super bandwidth, super accuracy, super space, super intelligence, super credibility.
Implementing a transmission speed of 1Tbps is the key for "super performance". The government is going to invest $31.3 (37.1 billion KRW) and $16.7 (19.8 billion KRW) in developing wireless telecommunications technologies that are able to send up to 1TB data in just one second and developing wired LAN Tbps-level transmission optical network technology that can deal with transmitting 1TB of data in just one second to wireless LAN respectively.
The goal of "super bandwidth" is to utilize high-bandwidth frequencies of more than 100GHz that are able to fulfill 1Tbps transmission speed. The government will invest $11.8 million (14 billion KRW) in developing radio frequency (RF) parts used for base station and device that are able to function under a frequency band over 100GHz.
The goal of "super accuracy" is to secure technologies that are able to reduce latency to a level of human reaction speed and reduce latencies of wired and wireless network to 5msec and 0.1msec respectively and increase coverage within the "super space" area up to a height of 10km. The government set aside $14.9 million (17.6 billion KRW) and $18.7 million (22.1 billion KRW) to develop wired transmission technology that guarantees accurate latency under 5ms and to develop telecommunications technology that provides Gbps-level transmission speed for flying objects respectively.
For the "super intelligence" area, the government will establish automated and intelligent systems by applying AI technology to entire sections of networks. For the "super credibility" area, it will internalize security technologies starting from 6G design stage. It will invest $20.7 million (24.5 billion KRW) and $19.3 million (22.9 billion KRW) in order to develop technologies that will completely turn wireless telecommunications networks into intelligent networks and to develop technologies that will completely turn mobile core networks into intelligent networks respectively.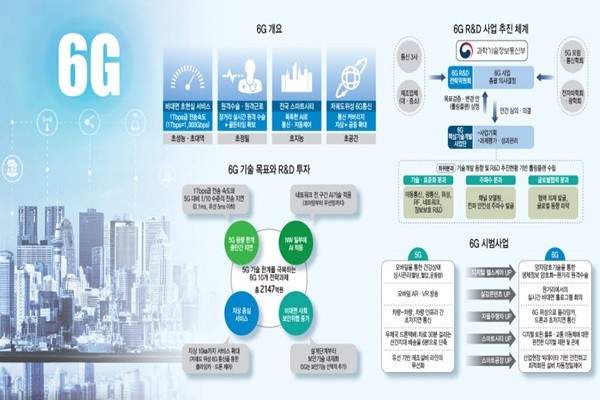 The government also sees preoccupying international standards and patents as a major task. It plans to increase competitive edge of South Korean technologies through strategic head-start research and technology verification for each step of standardizing 6G and secure the leadership during international meetings.
It will establish strategic collaborative partnerships with China, Japan, the U.S., and Europe and be active in sharing trends of technology development, suggesting joint standards, and securing frequencies.
It also plans to designate and promote a agency that will specialize in standards and develop the agency into a global leader in standardization because it believes that roles of relevant experts will be important in order to apply domestic patents for international standards as much as possible. Its plan is to support elections so that South Korean experts can become a chairman or a vice chairman for international organizations for standardization and strengthen leaderships and roles of South Korean industries within the global market for international standard by attracting international meetings for organizations to South Korea. Although 3GPP, which is an international organization for standardization, holds 150 meetings annually, some have been pointing out that a number of 3GPP meetings in South Korea has been relatively low.
The South Korean Government also established strategies for standard essential patent. It will establish a consultative group of experts in R&D, patent, and standard and a strategic map so that technologies that have a higher chance of securing standard essential patents can be found and developed. In order to apply outstanding domestic technologies and distinct characteristics of industries to International Telecommunication Union's vision on 6G and potential 6G technologies, it will prepare a classification system of specific technologies related to patents and standards of 6G mobile network. It will first reflect promising technologies that are deemed to have high competitive edge through its strategic map on new 6G projects and apply the IP-R&D method.
By analyzing global patents even at an early stage of R&D, the government is going to focus on avoiding patents from foreign companies, reducing time and cost for R&D based on useful patent technology information, and suggesting optimal direction for R&D in order to preoccupy key patents.
The government will provide R&D funds and strategies for securing standard essential patent as a package to companies and agencies that will focus on developing key technologies related to 6G network. It plans to link the package with Korean Intellectual Property Office's "standard essential patent creation support" project and provide its support for ten projects next year.
It is going to have the Ministry of Science and ICT and Korean Intellectual Property Office select candidates and provide its support for long time so that developed technologies can actually create standard essential patents. It plans to analyze small and medium-sized companies that possess many patents related to previous network generations such as 5G and come up with promising candidates for securing standard essential patents in 6G.
It will also make investments in strengthening competitive edge of industries related to 6G. Starting from 2025, it will verify performance criteria of key 6G technologies and develop prototypes (hardware and software) in order to secure a foundation to localize key 6G components and equipment. Its goal is to secure international standards and patents in fundamental technologies by commercializing 6G network faster than other countries and become the world's top country in smartphone market share and number of key standard essential patents and the world's top two country in telecommunications equipment market share.
Staff Reporter Choi, Ho | snoop@etnews.com