Multinational electric vehicle and automotive manufacturers are looking to secure an initiative in developing their own batteries after securing stable supplies of batteries by either purchasing batteries or collaborating with battery manufacturers. Tesla, BMW, and Volkswagen have begun developing their own battery cells while GM is looking to secure an initiative in battery development even though it set up a joint company with LG Chem. They are looking to become less dependent on battery manufacturers and even secure advanced battery technologies that are optimized for their electric vehicles. Just like how the global semiconductor industry is divided into fabless and fabrication facility, it is expected that the global battery industry will have automotive manufacturers develop their own batteries and entrust battery manufacturers with production.
According to the automotive and battery industries on Monday, Tesla, BMW, Volkswagen, and GM have begun developing their own batteries for their respective electric vehicles. Unlike how they used to receive batteries through suppliers or joint companies with battery manufacturers, they will look to lead development of their batteries on their own. Although they still receive batteries through suppliers or joint companies, it is expected that they will put out their own batteries within the next five years.
It is likely that their batteries will have increased energy density through improvement in high-voltage material or anode active material and absence or minimal amount of nickel or cobalt in cathode material.
GM has been constructing a battery production plant of "Ultium Cells", a joint venture set up with LG Chem, in Ohio since May. It will start mass-production in 2022 and install Ultium batteries into 20 electric vehicles that will be released in 2023.
Although Ultium Cells is a 50:50 joint venture, GM is the only automotive manufacturer that gave a brand name "Ultium Cells" to its battery. Although Ultium battery is also supplied to Honda, GM is the one that supplies it. Also, GM recently stated that it is closing on developing "1 million mile" electric vehicle battery.
"Many of our teams are working on Ultium battery and they are also working on a next-generation battery that is more advanced than Ultium battery." said Executive Vice President Doug Parks of GM.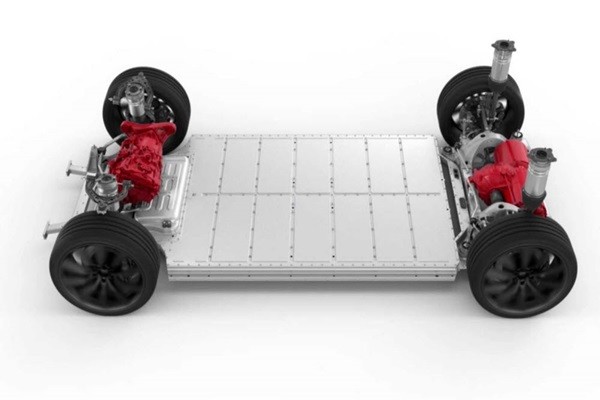 Tesla is also working on developing its own batteries. Tesla is currently operating a battery joint venture with Panasonic and is receiving batteries from China-based CATL and LG Chem. It is also carrying out a secret project "Roadrunner" at its factory in Fremont in order to secure its own battery cell manufacturing technology.
Tesla recently put out a job ad for engineers who will work on designing automated equipment and assembly lines for battery cell manufacturing. It also acquired a Canadian battery manufacturing equipment maker called "Hibar Systems" and an American company called "Maxwell" that specializes in ultra-capacitor battery last year. There is a good chance that Tesla will introduce its strategies on battery that it is developing on "Battery Day" that will be held during a general meeting of shareholders in September.
BMW, which is currently receiving batteries from Samsung SDI and CATL, is also focusing on securing its own battery cell technology. It opened a "battery cell competence center" in Munich last year. The center has 200 employees who specialize in battery, pilot production lines and charge and discharge testing facilities, and research equipment for the four key materials (cathode material, anode material, separator film, electrolyte) of battery.
It is currently constructing a pilot battery cell factory near Munich after receiving $70.6 million (60 million euros) business expense from the German federal government and Bavaria recently. It plans to invest $129 million (110 million euros) with a goal of operating the factory in 2022 and it will focus on innovating processes that surpass that of Asian battery cell manufacturers and improving production efficiency.
Volkswagen is the first automotive manufacturer that set out to internalize battery technologies. It purchased 26% of the shares of Guoxuan, which is the third-ranked electric vehicle battery manufacturer in China, in February and became its major shareholder. In September last year, it established a joint venture with a Swedish battery pack manufacturer Northvolt. It plans to invest about $1.01 billion (1.2 trillion KRW) in order to develop Northvolt into a company that develops and manufactures battery cells and recruited many people from LG Chem and Samsung SDI.
"Collaboration between automotive manufacturers and battery cell manufacturers will resemble the semiconductor industry in a way that design and development will be separated from production." said Professor Park Cheol-wan of Seojeong University. "Many automotive manufacturers will set up research groups to secure core battery technologies and they will be able to develop their own battery cells within the next five years."
Meanwhile, Hyundai Motor Company and LG Chem are also in a negotiation regarding a joint venture. They are currently discussing about ownership percentage and location selection for a production factory. It is heard that Hyundai Motor Company constructed a pilot line for finished products including battery cell at its Uiwang R&D Center prior to its negotiation with LG Chem. However, Hyundai is utilizing its pilot line as a battery sampling line to develop new cars rather than to develop advanced battery cell technologies.
Staff Reporter Park, Taejoon | gaius@etnews.com