A South Korean research team developed an IIoT (Industrial Internet of Things) technology based on its own 5G standard and succeeded in demonstrating the technology. It presented a blueprint of a smart factory era based on 5G and it is planning to develop additional technologies that can be used to manage and control facilities from a far distance.
Electronics and Telecommunications Research Institute (ETRI, President Kim Myung-joon) announced on Wednesday that it demonstrated controlling smart factory through an IIoT mobile telecommunications technology based on a 5G standard (Rel-15) that it developed.
Smart factory needs to provide customized products in real time. Production lines of smart factory do not manufacture only specific products. This is the reason why there need to be technologies that can diversify how mobile robots assist processes per production line and change production lines as well. However, current technologies cannot guarantee normal performance of these key technologies of smart factory.
ETRI had worked with KT, Korea Institute of Industrial Technology, Openobject, Qucell Networks, CleverLogic, and Soongsil University and developed an industrial network testbed in accordance with its own 5G standard and demonstrated an IIoT service.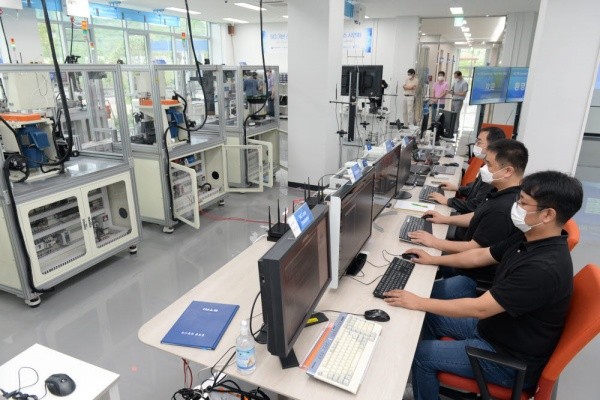 Its demonstration included real-time control of mobile robot, observation and operation of production facilities using portable touch panel, observation of manufacturing process' conditions using portable virtual reality (VR) equipment such as head-mount display (HMD), and wireless telecommunications between programmable logic controllers (PLC).
ETRI plans to upgrade the system so that it can be applicable to next 5G standards by the end of next year and demonstrate a service that can remotely manage and control facilities in real-time. It will also connect its laboratory in Daejeon with smart factories in Gyeongsan with a network that has low latency and is highly reliable.
It is also planning on demonstrating remote management and control service from overseas by connecting the smart factories with University of Oulu in Finland in 2022. It is also developing next-generation wireless telecommunications technologies with low latency and high reliability with the university.
"IIoT system is an innovative tool that can vitalize 5G smart factories throughout the manufacturing industry." said Kim Il-kyu of ETRI Future Mobile Telecommunications Research Headquarters. "We are going to continue to work with small and medium-sized companies in order to localize key technologies for the future."
Staff Repoter Kim, Youngjoon | kyj85@etnews.com