Corning is preparing to supply its new "Gorilla Glass" product that has improved drop performance and is more scratch resistant than other glasses that are on the market to Samsung Electronics and it will look to secure multinational companies as its customers as quickly as it can through excellent qualities that dominate that of its competitors.
"According to our internal investigation, smartphone users prefer a glass for smartphones that does not get damaged even when smartphones are dropped and is more resistant to scratches." said President Kim Jeom-sik of Corning Gorilla Glass Korea. "Our latest product has 25% better drop performance and two times more scratch-resistant than its predecessor." He also added that the company's Gorilla Glass Victus will be used on Samsung Electronics' next smartphone.
Gorilla glass is a cover glass that protects the surface of mobile devices such as smartphone. 45 brands including Samsung Electronics use Gorilla Glass.
Gorilla Glass Victus survived 2-meter drops during a drop test while its competition aluminosilicate tempered glass did not survive even a 1-meter drop.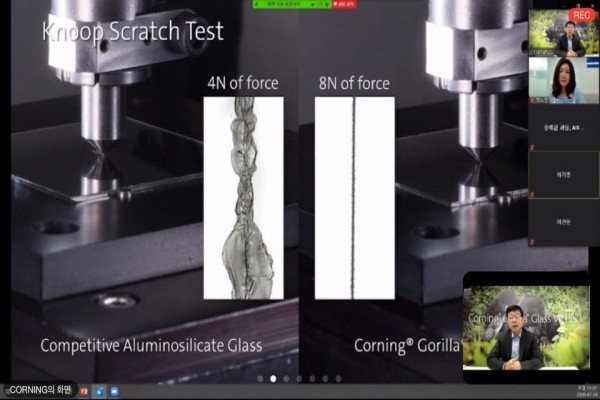 It was shown that Gorilla Glass Victus is two times more durable than its competitions during a test that measures the amount of pressure required to break a glass with its surface scratched. Compared to aluminosilicate tempered glass, it was up to four times more scratch resistant.
"Scratches on smartphone cannot be avoided." said President Kim. "However, our Gorilla Glass Victus is an innovative product that survived 2-meter drops and is twice more scratch resistant than its predecessor."
Corning Gorilla Glass Korea emphasized that "Gorilla Glass Victus" will help raise economic feasibilities of mobile device manufacturers. It explained that Gorilla Glass Victus will help them secure desirable yields better and faster due to the product's improved durability.
"Mobile device manufacturers will be able to secure competitive edge in their production costs as Gorilla Glass Victus will help them raise cover glass production yields." said President Kim. "Gorilla Glass Victus is a product that is optimized for all kinds of smartphones from premium models to economic models and we are currently negotiating with various mobile device manufacturers about supplying Gorilla Glass Victus to them."
Staff Reporter Yun, Heeseok | pioneer@etnews.com