The manufacturing scene of small and medium-sized companies has now entered the Smart Manufacturing 2.0 era. In addition to adoption and vitalization of IT capabilities, it is developing into a digital cluster that analyzes various data of smart factories through artificial intelligence (AI) and closely connects data through networks. If digital upgrade to manufacturing scenes was considered as first-generation smart factory, the biggest takeaway of "smart factory 2.0" is a great improvement to connectivity that is integrated with many latest technologies based on industrial clusters.
The Smart Manufacturing 2.0 era can build infrastructures such as facilities, equipment, and system that can be utilized by small and medium-sized companies and reduce amount of time that goes into manufacturing processes and various costs. Small and medium-sized companies that are small in size can also expect so-called "economies of scope". The era is expected to enhance the manufacturing industry by connecting the industry to key areas of the Fourth Industrial Revolution such as 5G mobile network and cyber physical system (CPS).
First digital cluster will be built at Busan International Industrial Logistics Complex in Gangseo-gu. Centered on a medium-sized automotive parts maker called Korens, around 20 companies will gather and manufacture electric vehicle motors. President Moon Jae-in visited the complex back in February and emphasized that the country needs to be the best in the world when it comes to future vehicles by 2030. This first digital cluster will invest $634 million (760 billion KRW) and create jobs for 4,300 people by 2031. Production of electric vehicle motors will begin in 2022.
Unlike other industrial complexes, this cluster will connect smart factories of companies that are tied in a value chain through 5G network. Joint cloud computing platforms and intelligent logistics systems will also be introduced.
Under this cluster, it is possible to analyze and predict data from individual manufacturing process of electric vehicle motor manufacturers and partnering companies. System integration and real-time data sharing between smart factories also take place. Automated distribution within the cluster can also be expected.
Smart factories in other industrial complexes are also evolving into "digital clusters".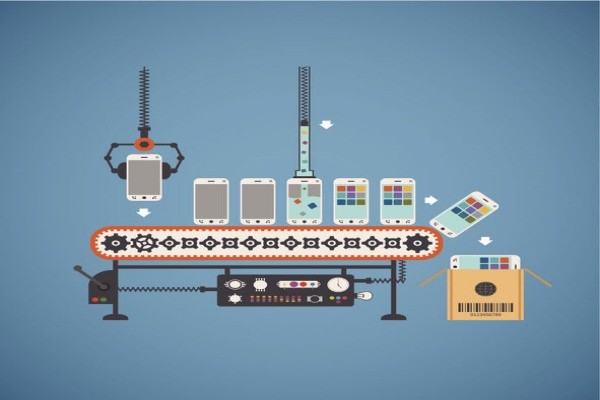 Pumps of booster stations of ten small and medium-sized chemical companies that moved into Haksan Industrial Complex in Ulsan are attached with sensors that can detect temperature, pressure, and vibration. These sensors collect data on seismic waves that are created from these pumps and hazard and operability study and make immediate diagnosis on damage that may occur due to aging facilities. Analysis through machine learning also takes place in real time.
These data will be shared with other chemical companies that adopt smart factories in the future through (AI) manufacturing platforms and help them solve various issues that may arise with their smart factories. Innovation of infrastructures such as facilities, equipment, and systems that can be shared by small and medium-sized companies is being pursued in all directions at the same time as building of smart factories.
Digital cluster allows smart factories of same type of business or smart factories located within a same region operate as single factory. Not only plans for production can be established in a joint manner, companies can also reduce costs on inventory and distribution.
There is also a high chance of developing key technologies such as 5G and AI even further. Large-scale on-site studies can be done as a cluster. Expansion and advancement of various technologies such as data security technology, open software between companies, and CPS-based digital twin creation technology that are related to smart facotyr can also be expected.
"Although we have been working on Smart Manufacturing 1.0 that is centered on expanding the foundation for smart manufacturing, now we have to focus on Smart Manufacturing 2.0 that will make manufacturing innovation more advanced through 5G, big data, and AI and promote companies that supply necessary infrastructures." said Cho Joo-hyeon who is the head of the Ministry of SMEs and Startups' Small and Medium Enterprises Smart Manufacturing Innovation Planning Team. "We are going to materialize a manufacturing innovation powerhouse through great digital transformation of small and medium-sized manufacturing companies."
Staff Reporter Ryu, Geunil | ryuryu@etnews.com