The South Korean Government is planning to enhance manufacturing innovation of small and medium-sized companies by utilizing "Korea Artificial Intelligence Manufacturing Platform (KAMP" and "5G + AI smart factory" and it will also create a cluster that can share data from smart factories. It also decided to establish a joint public-private business office that will lead this project sometime during the second half.
The Ministry of SMEs and Startups (MSS) reported its "AI and data-based small and medium-sized companies manufacturing innovation enhancement strategy" that includes such information at the "11th Emergency Economic Council meeting and the 1st Korean New Deal ministerial meeting" that was held at the Government Complex Seoul on Thursday. This announcement is part of follow-up measures of the Korean New Deal.
If the MSS' plan to supply 30,000 smart factories by 2022 can be seen as "Smart Manufacturing 1.0", its plan to enhance manufacturing innovation through AI and data can be seen as "Smart Manufacturing 2.0." It presented three specific key strategies and they are construction of KAMP, promotion of smart manufacturing suppliers centered on AI and data, and establishment of manufacturing innovation governance based on AI and data.
KAMP will store analyze data created from smart factories and support small and medium-sized companies with building their AI-based smart factories. It will prepare a "my manufacturing data" system that improves companies' productivity level and return profits created from utilizing manufacturing data back to manufacturing companies that created such data. $9.17 million (11 billion KRW) will be set aside for this platform in this year alone.
The MSS will construct 1,000 state-of-the-art "5G + AI smart factories" by 2025. Its plan is to construct a state-of-the-art smart factory that can resolve issues with processes through advanced technologies such as 5G mobile network and cyber physical system and it will look to construct 300 factories first by 2022.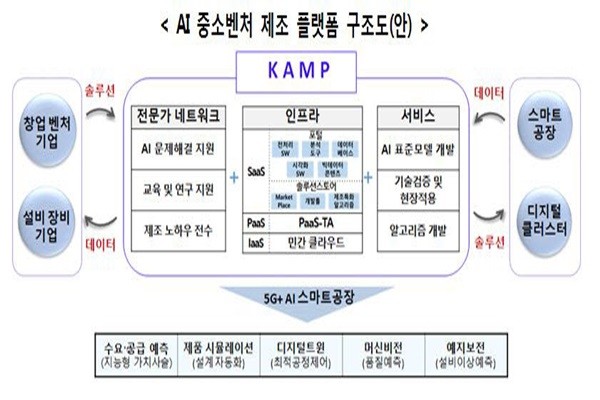 The MSS will also create 20 digital clusters that connect smart factories to networks by 2025. Because smart factories are currently supplied to companies individually, there have been concerns about lack of connection between companies.
"We are going to connect companies within same industries and different industries through a 5G system." said Kang Seong-cheon who is the vice-minister of the MSS. "Even if companies are separated geographically, we can still connect them through 5G network."
The ministry also decided to train additional 15,000 people who will be specialized in utilizing AI for the manufacturing industry. In addition, it will also look for promising AI startups through AI Championship that will be held in November and provide more financial support.
It will also legislate laws related to manufacturing innovation that will support its plans. It plans to prepare a support system for collecting, analyzing, and utilizing manufacturing data and provide support for creating an ecosystem for manufacturing data by designating a promotion agency for manufacturing data.
Meanwhile, the South Korean Government announced its plan to vitalize a private participation project worth around $25 billion (30 trillion KRW) in order to support and vitalize private participations. It will look into pursuing a green smart school project worth $3.58 billion (4.3 trillion KRW), a hydrogen energy station expansion project worth $417 million (500 billion KRW), a seismic reinforcement project worth $6.5 billion (7.8 trillion KRW), and a LED light replacement project worth $83.3 million (100 billion KRW) that are scheduled in the Korean New Deal through private participations. It also plans to select projects out of "2020 Balanced National Development Project" scheduled for this second half that can be converted into private projects.
It also decided to provide more incentives so that an abundant amount of market liquidity can flow into its private participation project. It plans to introduce separately taxable dividend income with a tax rate of 14% for public infra funds and ease regulations on infra fund according to "the Act on Private Participation in Infrastructure".
Staff Reporter Sung, Hyeonhee | sunghh@etnews.com & Staff Reporter Ryu, Jaehee | ryuj@etnews.com