Innonet is planning to remove internet blind spots in South Korea and other countries through a "TV white space (TVWS) Wi-Fi service".
TVWS refers to the unused broadcasting frequencies or frequencies set up to avoid radio interference and it can provide an internet service at a low cost when it is utilized in areas where it is difficult to launch internet service.
When the Ministry of Science and ICT (MSIT) set up a regulatory sandbox for TVWS to be used as wireless internet connectivity, Innonet set up and started demonstrating public TVWS Wi-Fi service within Chungpoong Lake Ferry and Chungpoong Lake Monorail.
Through a pilot project that will last until November, Innonet will examine stability of its TVWS Wi-Fi service. It applied various technologies such as multi-cell design and hand handover so that its Wi-Fi service does not become disconnected on the lake and did not come across any frequency interference issue that it was concerned about. If stability of TVWS Wi-Fi service is verified through Innonet's pilot project, it will be possible to provide internet service and real-time disaster management system for ferries and others through public TVWS Wi-Fi service.
TVWS does not require separate license as it can be used if it does not cause any issue with broadcasting reception. However, fixed TVWS technology and mobile TVWS technology can only be used if the distance from an AP (access point) is more than 10km and less than 1km respectively based on current regulation. As a result, it was not possible to apply the technology to moving objects such as bus and ferry that travel long distance.
Prior to carrying out a pilot project, Innonet was selected as the company that will supervise "2020 IoT (Internet of Things) Product and Service Verification and Vitalization Project" that is being pushed by the MSIT and the National IT Industry Promotion Agency (NIPA).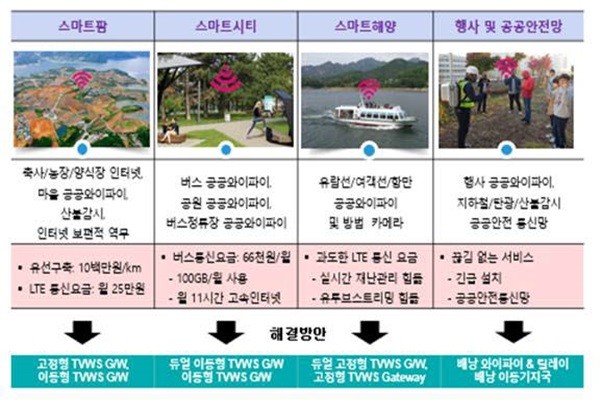 This project will set up TVWS-based Wi-Fi service APs in 12 cities and 100 districts in Gangwon-do and remove internet blind spots. When this project is completed, people living in Gangwon-do and tourists will be able to use public Wi-Fi service for free at tourist spots and event halls and on ferries. TVWS-based Wi-Fi service can also be used for real-time disaster monitoring and preemptive actions from a public safety aspect for forest fire monitoring and others utilizing CCTVs.
Innoet suggested a "mobile COVID-19 monitoring system using TVWS backpack Wi-Fi" to a South African company called "AfriKo" and South African National Department of Health last month and was chosen to set up the system in 10 districts of South Africa starting from this month.
Innonet suggested a system that can quickly manage COVID-19 cases by linking thermal imaging camera with TVWS backpack Wi-Fi.
The system will measure people's temperatures in public places using a thermal imaging camera and immediately enforce COVID-19 diagnosis on the spot if one's temperature is found to be above a certain level. Data related to measurement will be sent to authorities responsible for prevention of infectious disease in real time through TVWS backpack Wi-Fi.
South Africa's control center for prevention of infectious disease will come up with statistics through information on patients and data collected through TVWS backpack Wi-Fi and use them to come up with appropriate actions.
Innonet is planning to set up its system in areas such as event hall, bus terminal, sports stadium, highway, and school where there is a huge number of floating population.
"When TVWS and technologies used to diagnose COVID-19 are used together, they will be a great help in finding potential COVID-19 cases and preventing confirmed cases from spreading in advance." said CEO Yoo Ho-sang of Innonet. "Although it may take a while to completely set up the system, the South African Government is providing enormous amount of support that was not seen before in order to introduce our system to its country as soon as possible."
Staff Reporter Choi, Ho | snoop@etnews.com