Jang Won-ki, who had worked as a president for Samsung Electronics, ultimately decided to withdraw from his decision to join ESWIN as there had been people who were concerned about a significant impact that a former Samsung Electronics president working for a rising Chinese semiconductor company would have on relevant industries in South Korea. As a result, there is a growing level of interests towards ESWIN and its Chairman Wang Dongsheng.
According to the industry, ESWIN is a company established by Chairman Wang Dongsheng who stepped away from BOE in July last year. Although he had led BOE since 2002 and helped BOE become the world's biggest LCD company, there needs to be a shift in generations.
Chairman Wang found ESWIN and SINEVA in 2016 when he was facing retirement. ESWIN and SINEVA focus on semiconductor and display equipment respectively.
ESWIN has few ties with South Korea. In 2017, it acquired WideChips that makes DDI (Display Driver IC) for OLED panel. WideChips also supplied DDIs to Samsung Electronics.
Although WideChips was part of Bogwang Group, Bogwang Group sold WideChips South Korean fabless company called Silicon Mitus in 2016 due to financial difficulty. Silicon Mitus acquired WideChips in order to diversify its business that was centered on power semiconductor. However, it also sold WideChips due to financial difficulty and it sold WideChips to ESWIN.
ESWIN purchased WideChips' shares from Silicon Mitus for $12.3 million (15 billion KRW). The semiconductor industry believes that this was when ESWIN secured OLED DDI technology. "WideChips is a company that once supplied DDIs to Samsung Electronics." said a representative for the industry. DDI is a display integrated circuit that is connected to a panel and it controls video signals and displays images. It is a key component that determines a display's performance.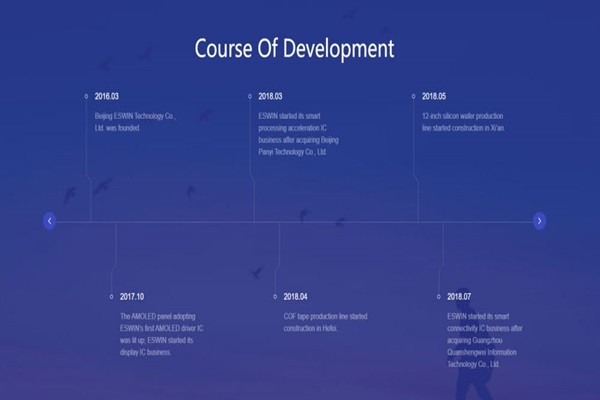 It is understood that Chairman Wang started to expand ESWIN's semiconductor business seriously ever since the company acquired WideChips. According to ESWIN's course of development, it started to produce COFs (Chip on Film) in 2018 and it launched silicon wafer and semiconductor packing and testing businesses one after the other since then.
COF is a board that connects DDI and panel. Silicon wafer is a material that is absolutely needed for semiconductor manufacturing. Semiconductor packaging is a process that protects a finished chip and connects it to an external terminal. ESWIN reorganized itself centered on the company's holding company in February due to a rapid course of the company's development. It is heard that Jang Won-ki joined ESWIN's holding company.
Chairman Wang has been very passionate about semiconductor. "Chairman Wang believed that there would be many opportunities as China looks to be self-reliant when it comes to semiconductor." said a high-ranking official from the semiconductor and display industries. "It is likely that Chairman Wang turned his head towards semiconductor after helping BOE grow into a leading company in global display industry."
Actually, Chairman Wang told the audience of the company's website that he has always dreamt about solving the country's lack in semiconductor and display and that he is now working on semiconductor business after stepping away from BOE.
Representatives from the industry are paying careful attention towards Chairman Wang's next moves and they are especially keen on gradual increase in outflow of manpower from South Korea to ESWIN. "How China is slowly scouting experts in semiconductor from South Korea is similar to the method that it used to grow its LCD industry." said a CEO of a South Korean semiconductor company.
Although a controversy surrounding Jang working for a rising Chinese semiconductor company seems wrapped up, there is still an issue with Chinese companies scouting talented individuals and utilizing retirees from South Korea. As a result, there needs to be social discussions regarding ways to minimize talented individuals going overseas while freeing their job selections and preparing a system that will allow them to continue to work within South Korean industries.
Staff Reporter Yun, Geonil | benyun@etnews.com & Staff Reporter Kang, Hyeryung | kang@etnews.com