"It is an absolute must to promote our software (SW) industry in order for the "Korean New Deal" to be successful. Right now is the perfect time to promote our SW ecosystem and to create quality jobs."
President Lee Hyung-bae of TmaxSoft described that the "Korean New Deal" is a golden opportunity that has not been available for the SW industry since the government led by former President Kim Dae-jung.
President Lee had an interview with the media for the first time since he was appointed as the president of TmaxSoft in December last year after working for foreign companies such as Oracle and Palo Alto Networks.
Due to his long experiences working for foreign companies, he knows well about strengths and weaknesses of the SW industry. His goal is to develop TmaxSoft into a SW company that can stand up to multinational companies. He had visited many government departments and suggested projects that can materialize policies related to the "Korean New Deal" that the South Korean Government recently announced.
President Lee emphasized that the Korean New Deal is not a policy just to stimulate the South Korean economy. "The main point of the New Deal is digitalization and the core of digitalization is SW." said President Lee. "Based on South Korean industries' strengths in digitalization, the government needs to continue to create quality jobs."
Promoting the SW industry is the most urgent task. If the Korean New Deal ends with favoring foreign companies and major companies, a SW ecosystem cannot be established. In order to actually create quality jobs, small and medium SW enterprises and medium-sized SW companies need to play major roles. This is the reason why the government needs to support the entire SW industry and not just TmaxSoft.
"The South Korean Government started making attempts to localize semiconductor materials when the Japanese Government imposed trade restrictions in July last year." said President Lee. "Localization and diversification also need to take place within the SW industry through policies and supports by the government." Just like how competitive edge of South Korean semiconductor materials makers has been raised as they continue to depend less on Japan, he wants the SW industry to be free from subordination of foreign companies.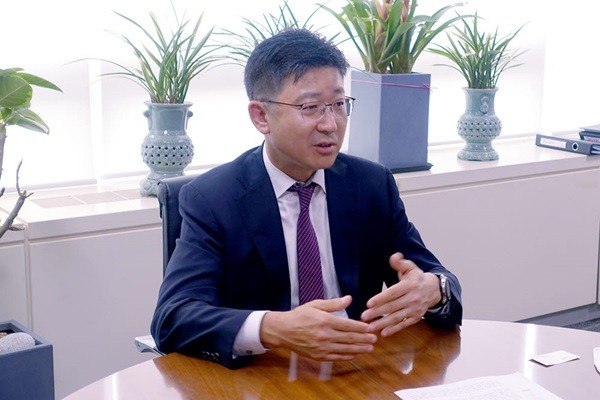 The SW industry has been treated poorly compared to foreign SW industries. While foreign SW companies point to technical issues as inevitable issues, technical issues caused by South Korean SW companies have been criticized because they are "domestic". In order for domestic SW to be used more widely in public areas, there needs to be a change in thinking by the person in charge and a system that compensates such change. At the very least, there needs to be a culture that does not blame domestic SW.
Another strength of domestic SW is the fact that it is able to provide IT solutions that correspond to domestic situations. While the South Korean market is just another place for businesses of foreign SW companies, domestic SW companies conduct R&D in house. They are able to provide in-depth education and maintenance for internalizing abilities in IT. Real-time monitoring, customized feedbacks, and technical support are advantages that domestic SW companies have over foreign SW companies.
Potential of domestic SW was recently proved through online classes. TmaxSoft created Korea Education and Research Information Service's "cyber learning system" and prepared a base for online classes. It provides a web application server "JEUS", web server "WebtoB", and cloud data base management system "Tibero".
It was able to add many more cores and extend its server in just 2 weeks through a 24-hour hot standby system and monitoring by personnel that is in exclusive charge of the system. By optimizing its server, it was able to have 650,000 people access its server at the same time.
TmaxSoft will have huge roles in fulfilling the Korean New Deal. "Based on SW technologies that we have accumulated for 23 years, we are the only company in South Korea that possesses infrastructures, applications, and key IT technologies for digital innovation." said President Lee. "We are going to support as much as we can so that digital infrastructure, non-face-to-face industries, and social overhead capital digitalization, which are the three biggest projects for the Korean New Deal, can be successful."
Staff Reporter Oh, Dain | ohdain@etnews.com