Samsung Electronics is planning to invest in a NAND flash memory production line that will be constructed at Pyeongtaek Line 2 (P2).
Although there is increased economic uncertainties due to the COVID-19 pandemic, its strategy is to widen the gap between itself and its competitors and respond to demands for NAND flash memory in medium and long term.
The investment reflects Vice Chairman Lee Jae-yong's intention to keep promises for investments as it once again announced its plan for an investment while it has only been 10 days since Samsung Electronics announced that it would construct an EUV (Extreme Ultraviolet) foundry line at the P2 fab, Samsung Electronics.
Samsung Electronics announced on May 1 that it started the construction of clean rooms in order to manufacture NAND flash memories at the P2 fab. Production of NAND flash memories will begin in the second half of 2021.
Although Samsung Electronics did not disclose the exact amount of the investment, the industry estimates that Samsung Electronics will invest about $6.53 billion (8 trillion KRW) that will be equivalent to 20,000 units per month based on 12-inch wafer.
"This investment will allow us to get a head start in securing demands for NAND flash memory in medium and long term as AI, IoT (Internet of Things), and 5G start to become norms." said a representative for Samsung Electronics.
As the upward trend of NAND flash memory demands is expected to accelerate due to the recent spread of "untact" lifestyle, Samsung Electronics is looking to grab the upper hand of the global NAND flash market by actively making investments.
Pyeongtaek Campus, which was built in 2015, is Samsung Electronics' next-generation memory output and it has two of the world's biggest production lines. NAND flash production line that will be constructed with the latest investment will manufacture cutting-edge V-NAND flash memories.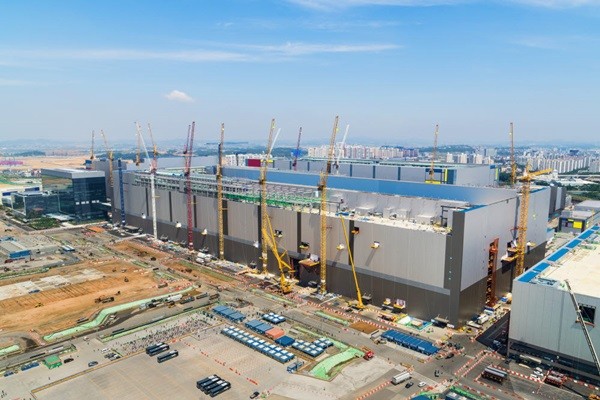 After becoming the world's top NAND flash maker in 2002, it has maintained its position while the difference between itself and the second place in market shares is more than 30%. Although the gap is pretty wide, it is important for Samsung Electronics to widen the gap even more as its competitors such as Chinese companies are quickly chasing after Samsung Electronics. Actually, China-based Yangtze Memory Technologies YMTC) announced that it would start production of 128-layer NAND flash at the end of this year.
"Our latest investment is for us to widen the gap between ourselves and out competitors even more under these economic uncertainties." said Choi Cheol who is the executive vice president of memory global sales and marketing at Samsung Electronics. "By providing the best products to our customers, we are going to make contributions to building the national economy and the global IT industry."
The investment reflects Vice-Chairman Lee's intention to maintain "super gap" as a leader within the semiconductor industry. Although the global economy has suffered due to COVID-19 and Samsung Electronics is also facing difficulties, Samsung Electronics is looking to get a head start in future opportunities by making early decisions.
"Through endless innovations and technologies, we are going to focus on areas that we excel in and challenge ourselves in new industries in a decisive manner." said Vice-Chairman Lee last month while making an apology to the public in South Korea. While the company was making a decision on the construction of an EUV foundry line at the P2 fab on May 21, he also emphasized that investments into future should not be stopped under difficult times.
"Samsung is going through many domestic and outside difficulties such as continuous investigations by South Korean prosecutors, deepened conflict between the U.S. and China, and the spread of COVID-19." said an official from the financial circle. "Despite these difficulties, it continues to make investments for the future."
Staff Reporter Kwon, Geonho | wingh1@etnews.com & Staff Reporter Kang, Hyeryung | kang@etnews.com