As South Korea's data center market has grown, it is expected that there will be changes to dynamics to the market that has been led by telecommunications companies. Changes started to take place since last year. Top two colocation companies, which lend equipment, space, and bandwidth, in the world entered South Korea's data center market last year. They are currently working on solidifying their positions within the market while competing against South Korean colocation companies such as KINX.
Colocation is a service that lends a data center to companies or public customers that do not have abilities to build their own data centers. The strength of major domestic and foreign colocation companies such as Equinix, Digital Realty, and KINX is that they are neutral from telecommunications networks as they provide various telecommunications services. As there has been a rapid increase in demands for data centers in South Korea, level of interests towards colocation services has also increased at the same time. The reason why Equinix and Digital Reality that had been observing South Korea's data center market entered the market at the same time is because they believed it was the right time to enter.
Equnix, which is the top colocation company in the world, appointed Jang Hye-deok, who was the former director of Google Cloud Korea, as the South Korean branch's president and showed its intention to target South Korea's data center market. It built a data center nearby Seoul and it has secured major domestic and foreign companies such as Naver Business Platform (NBP), Megazone Cloud, and ServiceNow as its customers. It has also secured current data center companies such as Samsung SDS, KT, LG Uplus, and SK Broadband as its customers and confirmed its neutrality from telecommunications networks.
Digital Reality, which is the second-best colocation company in the world, announced its plan to build its own data center and has shown aggressive moves. Its plan is to build a 129,000 ft2 data center with three stories below and ten above the ground in DMC where there are many IT and media companies by 2021. It appointed Kim Jae-won, who used to work for AT&T for more than 20 years, as the South Korean branch's president and is working on the construction.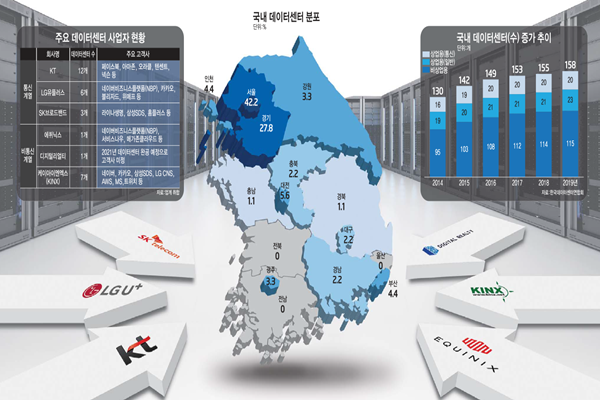 KINX has been working on IX (Internet eXchange) and colocation businesses in South Korea for more than 20 years. As colocation services have started to drawn attention, level of interests towards KINX has also increased at the same time. It provides its services to major domestic and foreign companies such as Naver, Kakao, AWS (Amazon Web Service), and Microsoft (MS). Current data center companies such as Samsung SDS and LG CNS also use its services. In order to attract customers, it has been active in making investments as it announced its plan to build additional data center in Gwacheon.
It is expected that the global data center industry including colocation will grow at a rapid rate overseas. The global colocation market was worth $31 billion in 2017 and it is estimated to be worth $106 billion in 2026 after growing at an average rate of 14.2%.
Expectations on the market's growth can also be seen through stock markets. Equinix, which is listed in NASDAQ, had its stock rise from $300 per stock from the first half of 2019 to $670 recently. KINX, which is listed in KOSDAQ, had its stock rise from the middle end of 30,000 KRW per stock from May of 2019 to 62,000 KRW recently.
The industry expects that competitions within the data center market will become fiercer as new companies such as Macquarie and GS E&C join the market that is already made up of domestic and foreign colocation companies. Investors such as foreign asset management companies are focusing on data center rental business instead of real estate rental business. South Korea's top asset management companies are also preparing to invest in data center rental business.
"It is expected the market will be more vitalized as various businesses such as colocation companies and asset management companies join the market that was made up of telecommunications companies and IT service providers." said a representative for the industry. "As it is expected that there will be more demands for data centers due to a heavy increase in cloud and AI uses since the COVID-19 pandemic, various companies will be active in trying to secure customers."
Staff Reporter Kim, Jiseon | river@etnews.com