The Japanese media raised an opinion that Japanese materials makers are taking hits to their performance due to trade restrictions that the Japanese Government imposed on South Korea last year. As South Korean companies have actively looked to secure substitutes to Japanese products that they had been using, Japanese companies on the other hand have been suffering from less demands for their products. It is noteworthy that the Japanese media points out the Japanese Government's handling of the issue as a "gamble".
The Nikkei reported that South Korean companies have been actively researching into processes that will allow use of substitutes to Japanese companies' products as the Japanese Government tightens its trade restrictions on South Korea.
"Because South Korean companies realized that it would be difficult to locally manufacture hydrogen fluoride with high purity, which is necessary for production of semiconductor or LCD, early, they have been using hydrogen fluoride with low purity that can be procured locally." said the Nikkei. "As a result, Japanese companies that had been supplying their products to South Korean companies have been suffering due to less demands."
The Nikkei reported that LG Display using SoulBrain's hydrogen fluoride for its LCD production instead of ultra-high purity hydrogen fluoride from Stellachemifa that it had been importing from is a prime example that shows South Korean companies looking into alternatives.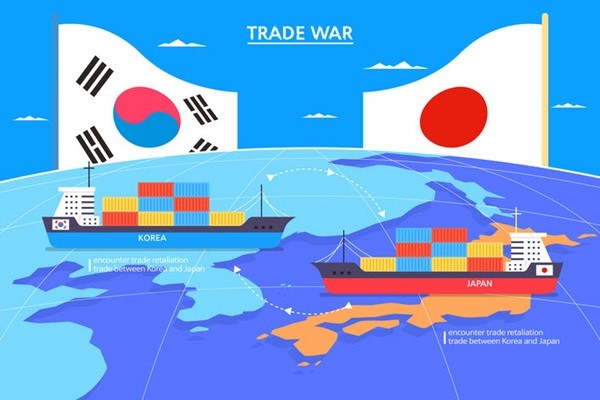 According to Stellachemifa's performance from April of 2019 to March of 2020, its net profit decreased by 18% compared to the previous year. It explained that it has been exporting less amount of hydrogen fluoride for semiconductor and LCD due to trade restrictions. During the same time, the number of shipments of its hydrogen fluoride decreased by about 30%.
"Because LCD and semiconductor go through more than 100 delicate processes, there is a high chance that there can be faulty products if some materials are altered." said the Nikkei. "Trade restrictions have changed South Korean companies' custom of using expensive high-quality materials in order to prevent their production yields from dropping." It also added that Samsung Electronics also decided to use low-purity hydrogen fluoride that can be obtained locally for certain processes in order to manufacture semiconductors without any setback.
It seems that Japanese companies are also not happy about how their government is handling the situation as they have not been at the top of preferred customer lists of many South Korean companies since trade restrictions were imposed.
"Although the Ministry of International Trade and Industry is repeatedly saying that the government imposed trade restrictions due to inappropriate issues and damaged trust between the two countries, South Korea is looking at trade restrictions as an "economic retaliation"." said the Nikkei. "Conflict between South Korea and Japan is having negative effects on Japanese companies."
Staff Reporter Yoon, Heeseok | pioneer@etnews.com