SK Telecom took a step forward towards commercializing quantum security technology.
SK Telecom and Samsung Electronics will launch "Galaxy A Quantum", which is the world's first 5G smartphone equipped with a quantum random number generator (QRNG) chipset.
Galaxy A Quantum is expected to signal commercialization of the quantum security technology within the mobile network field.
SK Telecom equipped Galaxy A Quantum with its QRNG chipset.
Its QRNG chip has length and width of 2.5mm and it is the world's smallest chip and it is optimized for smartphones.
Because QRNG chipset generates true random numbers that cannot be hacked, it helps consumers to safely use particular services.
Encryption keys that are used for each service are created based on true random numbers generated by a QRNG chip and enhance security.
SK Telecom applied the quantum security technology utilizing its QRNG chip to various services such as T-ID's two-factor log-in process, SK pay's biometric authentication, and a blockchain mobile electronic verification app called "Initial".
It is meaningful from a standpoint that anyone can enjoy the quantum security technology as Galaxy A Quantum will be available for everyone. The technology is currently applied to telecommunications networks and servers.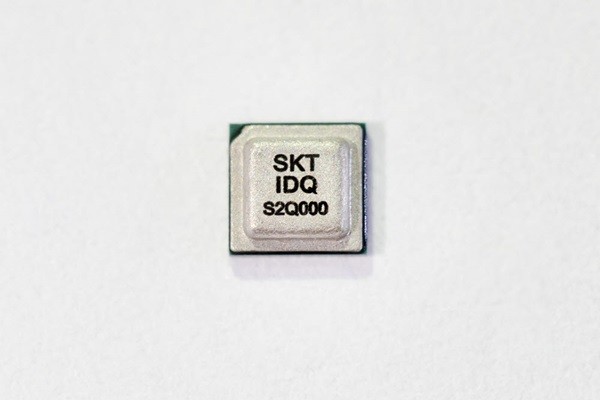 If one logs into T-ID using a Galaxy A Quantum, he or she will go through a two-factor security procedure that consists of a general login system and OTP (One Time Pad) authentication. When one is making a payment at an offline store of SK pay application, his or her biometric (fingerprint) authentication process will be protected by a quantum random number-based encryption key.
SK Telecom is planning to expand the technology so that it can be applied to various services. It is going to share open APIs (Application Programming Interface) with developers through SK open API's homepage and support them with technology development.
Also, it is going to expand quantum security-based services in various areas such as 5G network, IoT (Internet of Things), autonomous driving, and cloud and create new business opportunities.
"We have written a new history within the global quantum security industry with the launching of the Galaxy A Quantum." said Yoo Young-sang who is the head of SK Telecom MNO Business Department. "We are going to continue to develop differentiated security solutions so that our customers can be confident in using our ICT services as we face the hyper-connected society."
The Galaxy A Quantum's store price is set at $527 (649,000 KRW), and people will be able to pre-order it starting from the May 15th. Its official release date is the May 22nd. It is equipped with 6.7-inch Infinity-O display, 8GB RAM, 4,500mAh battery with 25W fast charging support, and other high-end specifications such as Samsung Pay. Its quad rear cameras are made up of 64MP, 5MP macro, 12MP wide, and 5MP depth sensors.
Staff Reporter Park, Jungeun | jepark@etnews.com