Digital infrastructure construction projects such as 5G mobile network and AI infrastructure will be pursued as "South Korean New Deal". "Untact" industries from medical and education fields will also be promoted.
In order to prepare for the post COVID-19 era, the South Korean Government announced the direction for "South Korean New Deal. Its budget for the next 2 to 3 years will be focused on different projects of "South Korean New Deal". However, it drew the line on institutionalization of "telemedicine" that requires legislative requirements. Knowing that there may be oppositions from the medical industry, telemedicine will be one of issues discussed in the future regarding revision of existing medical laws.
First, it is going to pursue large-scale projects for the next 2 to 3 years based on ICT (Information Communication Technology). These projects will especially focus on construction of digital infrastructures, promotion of "untact" industries, and digitalization of SOC (Social Overhead Capital).
10 major projects will include expansion of collection and utilization of data, early construction of 5G infrastructures, acceleration of convergent and mixed 5G+ projects, expansion of AI data and infrastructures, spread of AI convergence to all industries, creation of foundation for spread of "untact" services, strengthening of cloud and cyber safety networks, and digitalization of old SOCs.
First, the South Korean Government is going to expand demonstration projects on "untact medical service" that has emerged as an important service due to social distancing. Current "untact" medical services such as mobile healthcare provided by health centers and video health care and COVID-19 epidemic prevention project will be included.
However, the South Korean Government added that it will expand current "untact" medical demonstration projects and strengthen relevant infrastructures and not institutionalize telemedicine. "Our plan will focus on remote monitoring and consultation for people who lack medical cares, people with chronic illnesses, and people who have difficulty in moving around." said Kim Yong-beom who is the 1st Vice Minister of the Ministry of Economy and Finance (MOEF).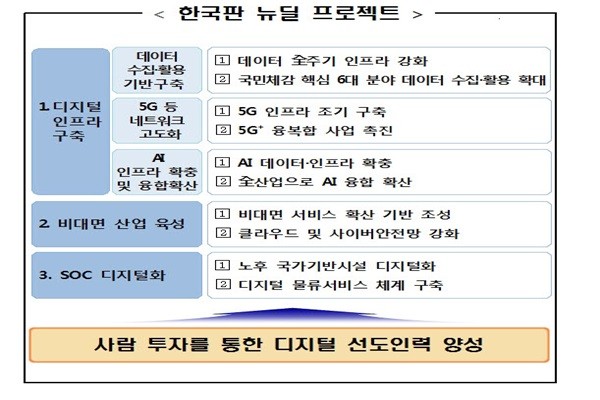 Some point out that many laws and systems that are limited due to existing laws should be taken care of first. "It is impossible to introduce telemedicine without revising laws." said a representative for National Assembly Research Service. "It is necessary for the government to secure clear grounds based on relevant laws and pursue amendments as soon as possible at the same time."
For "untact" education services, the South Korean Government is going to establish an AI-based remote education support platform that provides customized education contents and focus on creating a digital education environment for the future.
In addition, it is going to build big data for AI learning such as voice and behavior recognitions and understanding of language and visual information early and train people who specialize in AI and software at the same time.
Its strategy is to spread "AI Convergence Project" that applies smart production process to the manufacturing industry and small and venture companies to every fields.
In order to supplement infrastructures for big data, it decided to build a nationwide 5G network early and expand public information telecommunication networks such as public Wi-Fi. There are about 92,000 5G base stations in South Korea. SK Telecom, KT, and LG Uplus have 28,746, 32,628, and 31,466 base stations respectively.
The South Korean Government's plan is to spread convergence technologies that apply 5G to industrial scenes and different fields.
In addition, it is planning to strengthen and vitalize data collection, development and combination, transaction, and utilization of infrastructures in finance, medicine, traffic, the public, industry, and small business.
It is planning to introduce "South Korean New Deal detailed plan" while announcing the direction of its economic policies for the second half in early June and announce the final plan separately in the future.
Staff Reporter Ryu, Jaehee | ryuj@etnews.com