"Short supply" issue is becoming more serious within the global 8-inch foundry industry. Numbers of shipments of wafers from South Korean companies such as DB HiTek as well as China's SMIC and Taiwan's UMC and Vanguard have increased continuously. Such trend is the result of a significant increase in demands for PMIC (Power Management Integrated Circuit), image sensor, and fingerprint recognition sensor. Because such phenomenon is expected to continue for a while, there urgently needs to be support for South Korea's foundry industry to promote South Korea's system semiconductor industry.
According to the industry, multinational 8-inch foundry companies are experiencing a serious short supply phenomenon.
DB HiTek is a South Korean foundry company that is experiencing this phenomenon. Backlog of DB HiTek's orders in 2019 was around 90,000 sheets based on 8-inch wafer that is more than double its backlog in 2018 when it was 48,000 sheets. Backlog of orders indicates the amount of supplies DB HiTek had yet to produce out of orders it had obtained. Considering the fact that DB HiTek's monthly production capacity is around 112,000 sheets, its backlog indicates that DB HiTek is about one month behind in production. DB HiTek's competitive edge is in PMIC and image sensor.
Numbers of shipments of 8-inch wafers from SMICC and UMC have also increased continuously. While the number of shipments from Vanguard (VIC) had increased slowly in 2019, it had gone upwards since 2016.
Biggest reason for the short supply issue is increased demands for analog semiconductors. Demands for semiconductors related to power management, image processing, and security have gone up exponentially due to sophistication of functions of smartphones, cars, and IoT (Internet of Things) devices.
There is also a process that utilizes the 12-inch wafer. However, fabless companies usually go with the 8-inch wafer due to reasons such as competitive price. Because the price of a wafer doubles if they go with the 12-inch wafer, they are not able to adjust unit prices of their chips.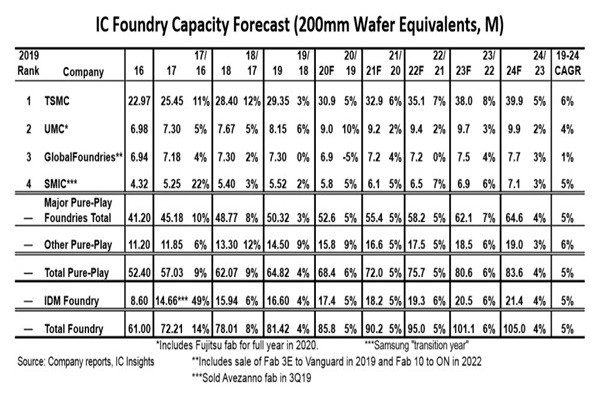 It is likely that this phenomenon will continue for a while. Although some South Korean foundry companies are attempting to raise their production capacities, it is difficult for them to handle demands as their production capacities are only about 5% of production capacities of entire foundry companies in the world. Also, because the 12-inch wafer has become the trend, there is lack of equipment and systems related to 8-inch foundry resulting in this phenomenon.
"Although foundry companies and asking around about used equipment and systems in order to extend their fabs, even this attempt has not been easy." said a representative for the foundry industry. "The best way is to enhance their production efficiencies."
If this phenomenon continues, South Korea's system semiconductor industry could face a potential critical situation. This is because system semiconductor companies will not be able to mass-produce their products on time even if they come up with well-designed semiconductors. The fact that the base for South Korea's foundry industry that can carry out the 8-inch process is not wide is another issue.
Because SK Hynix System IC is relocating its 8-inch fab facilities from Cheongju to Wuxi, Samsung Electronics, DB HiTek, and Magnachip are the only South Korean foundry companies left in South Korea. Annual production capacity of 8-inch wafer for each company is around 1 million sheets. However, their future plans for investments in facilities and equipment are lackluster.
"If this phenomenon continues, Chinese foundry companies will start to look at Chinese semiconductor design companies as their preferred customers." said a representative for the industry. "This is not a good phenomenon for South Korea's system semiconductor industry's development."
As a result, many within the industry believes that the South Korean Government needs to provide financial support for native foundry companies with extension of their facilities. Also, some believe that South Korean companies such as Samsung Electronics will have to actively lead MPW (Multi Project Wafer) projects in order to secure customers that are looking to produce 8-inch wafers.
Staff Reporter Kang, Hyeryung | kang@etnews.com