School networks that have been left alone have emerged as a weak spot as South Korean schools prepare for first days of school to take place online starting on the 9th. There are concerns that tele-education provided by teachers can be stopped abruptly depending on a school's network situation. Number of complaints by students and parents will only grow if real-time interactive class that is directly connected to performance evaluation does not take place properly. Level of concerns is growing daily as there are only very few schools with systems that can quickly inspect their school networks and computer network experts who can solve issues if they arise.
According to the industry and the educational industry, it has been confirmed that there is no suitable means to solve a network issue during real-time interactive classes provided by teachers.
Real-time interactive class is a means of communicating with students. Although it seems that teachers will have to perform unidirectional tele-education due to a difficulty with video conference platform at the moment, real-time interactive class becomes a must if online classrooms continue due to the aftereffect of COVID-19. As the Ministry of Education (ME) presented a principle that states that performance evaluation and student report are only possible when teachers actually observe their students, real-time interactive class needs to take place in order for teachers to evaluate their students if students cannot physical go to schools.
Experts are doubtful whether current school networks can support real-time tele-education. Except for few schools that have improved their school networks, most of schools' networks cannot even provide 100Mbps inside classrooms. Such low speed is not suitable for teachers to access school networks at the same time and share large contents with their students.
One high school is facing such difficulty while preparing to implement real-time interactive classes as it prepares for its first day of school taking place online. Although 30 teachers gathered to test real-time interactive classes, there was a buffering issue and they decided to give up on interactive class and teach classes using EBS and other methods.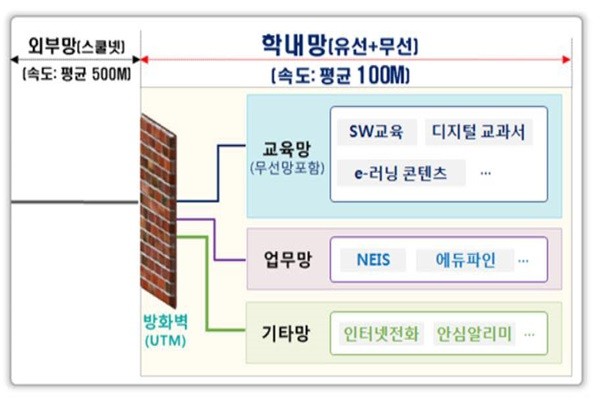 The issue will be more problematic if teachers use Wi-Fi in order to use tablets for their classes. Because many classrooms share Wi-Fi as most of schools have one wireless AP (Access Point) in each floor, there is a chance that a school network can go dead all of sudden.
The biggest problem will be finding out what is actually causing an internet issue. School's Wi-Fi system is connected through an AP after internet goes through a firewall and the school network when a telecommunications company provides a wired network "SchoolNet" up to the wall of a school. Because there is almost no computer network expert within schools, it is difficult to find the cause of an internet issue when an issue arises.
Because there is almost no computer network expert within elementary, middle, and high schools, teachers have been taking place being in charge of their respective school network systems. However, management of school networks has been practically left alone as teachers have been on rotations and transfer of duties have not taken place properly. Although each office of education is going to install a system such as SDN (Software Defined Networks) that can perform remote monitoring, actual installation will not take place this year.
Authorities from the educational industry and schools are looking at servers such as EBS and students' smart devices and data charges. They prepared a guideline for online class, attendance, and performance evaluation and distributed it to teachers. The guideline even lists ways of using a real-time interactive class platform in detail. However, school networks that teachers access to while giving classes are in a blind spot.
ICT experts emphasize that inspection and improvement must be carried out on school networks as school networks have been an issue for a long time. "Networks need to be stable in order for first days of school to take place online without any issue." said CEO Jung Jae-woong of ATTO Research. "Inspections on capacities of school networks and administrative control systems are urgently needed."
Staff Reporter Mun, Bokyung | okmun@etnews.com